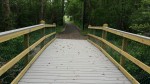 STRAIGHT PATHS
Luke 3:4–6
4 as it is written in the book of the words of Isaiah the prophet, saying: "The voice of one crying in the wilderness: 'Prepare the way of the Lord; Make His paths straight. 5 Every valley shall be filled And every mountain and hill brought low; The crooked places shall be made straight And the rough ways smooth; 6 And all flesh shall see the salvation of God.' "
 One morning the Lord focused my attention on the word "straight".  I asked Him what He wanted me to understand about this word.  The short answer was, "Make the way smooth and easy to connect with Me in the inner man."  The Greek word means more than a smooth path.  It also has a meaning in relation to time – it means immediate contact.
I thought of road construction projects I have watched over the years in many parts of the world.  The roadways that were once quite crooked with pot holes, deep drops and steep climbs, were modernized to be relatively straight, level and smooth.
We are involved in a ministry to the spirit, soul and body called Bethel Sozo.  Sozo means to be saved, healed, delivered and made whole.  What we have experienced through Sozo ministry is that the Lord makes the path to Himself smooth, level and true – for immediate contact with Him.  Jesus interjected as I was writing this, that, "It also means immediate physical healing."  They can see, they can hear, they can talk, write, walk, run, sing, dance, play and work.
Repentance is integral to Sozo.  When you understand the lie the enemy has used to keep you bound, you are able to choose to forgive those who were involved in making the lie seem true.  Ultimately, the lie is about God and His goodness.  You can renounce the lie, turn to God (repent), hear the truth and embrace God.
To renounce is a key part of repentance.  To renounce something means to forcefully throw it away from you, so you can fully embrace something else.  You see the harm the lie has caused to you.  You forgive the messenger, renounce the lie, turn to God and wait for Him to speak His truth that sets you free to embrace Him.  When God has broken the power of the lie by releasing His truth to you, you can enjoy a mutual embrace with Him and feel His love flow through you – establishing the truth that He has never left you and He never will.
In Bethel Sozo you get to commune in spirit with the Holy Spirit , hear and know (experiential knowledge of) the Truth (Who is Jesus) and sit at rest (in Christ) with God the Father; knowing you are loved and accepted without having earned it.