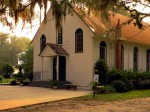 TRADITIONS AND GOD'S WILL
Mark 7:13 "making the word of God of no effect through your tradition which you have handed down. And many such things you do."
 The word of God empowers the will of God when people believe.  That's how it has always been.
If it did not work that way, we would not need the word of God.  God would just do His will in our lives without His word.  But He urges us to declare His word above any other word.  Why?  He needs His word released so people will hear, believe and receive the good pleasure of His will.
Traditions are not evil.  Yet the traditions of men can nullify the word of God when men declare them in place of the Word of God.  When you nullify the word of God you also nullify the will of God in your life.
Is it possible to nullify the will of God?  Consider these scriptures.
1 Corinthians 1:17 For Christ did not send me to baptize, but to preach the gospel, not with wisdom of words, lest the cross of Christ should be made of no effect.
 Galatians 5:2 Indeed I, Paul, say to you that if you become circumcised, Christ will profit you nothing.
 Galatians 5:4 (KJV) Christ is become of no effect unto you, whosoever of you are justified by the law; ye are fallen from grace.
 These verses are the word of God revealing the will of God.  Huh?  It is God's will that you be the master of your choices.  It is His will that you are free to choose His will, your will or someone else's will (the enemy looks for people to control).  Choosing to believe God's word is choosing His will, which is always good, pleasing and perfect (Romans 12:2) for your life.  Choosing the will of anyone else over God's will is the reason things don't work out the way He planned and eventually end in despair for those who choose it.
One day each believer will stand before God and, without condemnation, know all things.  We will know His original and perfect plan for our lives.  We will probably say in our hearts, "Oh, why didn't I listen?  Why didn't somebody tell me?"  As He wipes the tears from our eyes, without a word spoken, we will know He tried to tell us.  He put the answer in His word.  And He gave us His Holy Spirit.
Jeremiah 29:11 For I know the thoughts that I think toward you, says the Lord, thoughts of peace and not of evil, to give you a future and a hope.
 John 16:13 "However, when He, the Spirit of truth, has come, He will guide you into all truth; for He will not speak on His own authority, but whatever He hears He will speak; and He will tell you things to come."
 God is sovereign.  However, that does not mean He rules the will of men.  We are sovereign over our own wills.  He is asking us to yield our wills to His will.
Look at the definition of sovereign.  adj. having the right to rule, having supreme rank; independent, self-governing; highest, supreme, paramount; effective, potent
n. monarch, king, queen, ruler; former gold coin of the United Kingdom
It does not mean what the religious traditions of men say it means.  Notice that you cannot find any indication in this definition that God controls everything and that nothing can happen without His permission.  We are able to void God's will and God's power in our daily lives.  It's His will that we are able to do so.  He wants us to choose His way – by faith – trusting His goodness and love.  He wants us to enjoy the benefits of His kingdom which are fully provided through the completed work of Christ.  He requires that we choose His will
Deuteronomy 30:19 "I call heaven and earth as witnesses today against you, that I have set before you life and death, blessing and cursing; therefore choose life, that both you and your descendants may live;"
Galatians 5:6 For in Christ Jesus neither circumcision nor uncircumcision avails anything, but faith working through love.
 Faith working through love avails much.  Why?  Because we are saved by grace through faith.
Ephesians 2:8 For by grace you have been saved through faith, and that not of yourselves; it is the gift of God,
 The one key to enjoying the power and benefits of God's kingdom is to put faith in what Jesus has done.  To not do so relegates you to law based religiosity to earn your way to God.  You void the value of Christ and His finished work.
Galatians 3:17 And this I say, that the law, which was four hundred and thirty years later, cannot annul the covenant that was confirmed before by God in Christ, that it should make the promise of no effect.
 God's promise is perfectly available to those who believe.  No one will ever cancel God's promise of a new covenant because they trust their observance of the law instead of trusting in Christ.  But that mistake does make the promise of no effect for them (Galatians 5:4), unless they repent and turn to Christ as their only source of salvation.
The promise God made to Abraham is His word (His will) for every man.
Romans 4:13-16
13For the promise that he would be the heir of the world was not to Abraham or to his seed through the law, but through the righteousness of faith. 14For if those who are of the law are heirs, faith is made void and the promise made of no effect, 15because the law brings about wrath; for where there is no law there is no transgression. 16Therefore it is of faith that it might be according to grace, so that the promise might be sure to all the seed, not only to those who are of the law, but also to those who are of the faith of Abraham, who is the father of us all
These verses clearly tie the promise to Abraham's faith.  They tie faith to grace (the provision of God in Christ).  And they tie faith and grace to the promise made to Abraham, a complete circle.
Galatians 3:16, 21-22
16Now to Abraham and his Seed were the promises made. He does not say, "And to seeds," as of many, but as of one, "And to your Seed," who is Christ.
21Is the law then against the promises of God? Certainly not! For if there had been a law given which could have given life, truly righteousness would have been by the law. 22But the Scripture has confined all under sin, that the promise by faith in Jesus Christ might be given to those who believe.
 Christ is the seed (the word of God) promised to Abraham.  The law makes us all sinners, yet provides no means of coming to God.
But the promise was not made to Abraham because he was good.  God made the promise to Abraham because he believed the word of God spoken to him (Galatians 3:6).
It's the same for us.  By faith in Christ alone we are given His righteousness and can thereby come to our Father in Heaven, freely.
Faith awakens in us as we hear the word of God (Romans 10:17).
Therefore we go back to the beginning with Mark 7:13.  The word of God empowers the will of God, when?  When people believe God's word (1 John 3:23).  Jesus is the word of God.  It's God's will that you believe in Him, so the promises of the covenant can work in your life; His good, pleasing and perfect will.