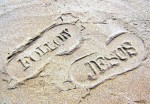 "To know Me is to Follow Me," – Jesus
Part 1
John 10:14 "I am the good shepherd; and I know My sheep, and am known by My own.
John 10:27 "My sheep hear My voice, and I know them, and they follow Me.
Psalm 23:1 The Lord is my shepherd; I shall not want.
Sheep may not be the most intelligent animals in the world, but they know their shepherd and because they know him, they follow him.
Jesus is the Good Shepherd and those who really know Him, will follow Him.  Jesus is knowable.  He wants us to know Him.  Because He cares so much, He leads those who follow Him in safety and rest and every need is provided for.  I know this is true.  I have experienced it.
He Opened Finland to Us
Before my wife, Debby, and I moved to Finland to teach and preach the Gospel, we needed to know that it was God leading us.  Late in 2003 the Lord told Debby, but she never told me until after we had moved to Finland.  She waited for God to show me.  That is what God did.  He showed me.
In September 2004 we traveled with a ministry team for six weeks on a trip covering several cities in Finland.  We took this trip for the express purpose of seeing whether or not God was leading us to move to Finland.  By the end of the trip I had not seen or heard anything about this from the Lord.  And now it was early in November and we were in a van riding toward Helsinki.  We would fly out the next morning.  Robert Phillips was driving and I was chatting with him when I remembered I still had no clue about this question.  I had expected to know God's answer before this trip was concluded.  So I turned to the Lord.
Suddenly, with my eyes open, I saw a vision of Jesus.  Though I could see the road and the Finnish landscape, I also was seeing this vision of Jesus.  He was standing on a wide open field of green grass with His right hand extended to me.  Where I stood on the field represented anywhere I might be in the world except Finland.  The land behind Jesus was Finland.  And I knew it.  I understood without a word spoken that Finland was wide open to me and Debby.  All we had to do was trust Him and come.  One year later we arrived in Finland to live and minister the word of God which we did for five years.  And the Lord was right.  Finland was and still is open to us.  In fact Sweden and Norway are also open to us.
Jesus, as our Shepherd, led us to green pastures where the water was still and clear and all our needs were met and more.  God is always good to His word.
Regardless, I know many believers – followers of Christ – who live in perpetual lack; unable to sleep at night for fear of the unknown.  I understand this, as well.  Before Jesus revealed Himself more fully to me I had a hard time staying in peace in certain situations.
In contrast, the more fully I know Jesus:
The easier it is to follow Him, no matter where He leads.
The easier it is to sleep every night regardless of what the next day holds.
Knowing Jesus; truly knowing Jesus, can change everything for a believer.  Jesus is a Good Shepherd.
Many people are believers in Jesus; yet don't know Him in a way that radically changes everything.  The difference is in head knowledge or heart knowledge.  We often say that non-believers may have head knowledge about Christ but believers have heart knowledge.  But how many believers are there who are truly at rest in Christ as their Shepherd?  Most believers I know are as restless and fearful as the non-believers around them.  They pray and read the Bible yet the peace of God seems a fleeting thing for them.  They accepted Jesus as Lord and Savior and are doing the best they can to follow Him.  But their lives don't reflect the image of Psalm 23.  Most have head knowledge without the experience of heart knowledge – "let the peace of God rule in your hearts" (Colossians 3:15).
God gives every born-again child of God a new heart filled with all the heart knowledge for kingdom living.  You might ask, "Then why do Christians live such shallow defeated lives?"  By the time we are done with this study I expect you will know the answer.
New Hearts
Ezekiel 36:25-28
25"Then I will sprinkle clean water on you, and you shall be clean; I will cleanse you from all your filthiness and from all your idols. 26"I will give you a new heart and put a new spirit within you; I will take the heart of stone out of your flesh and give you a heart of flesh. 27"I will put My Spirit within you and cause you to walk in My statutes, and you will keep My judgments and do them. 28"Then you shall dwell in the land that I gave to your fathers; you shall be My people, and I will be your God.
This is a prophetic declaration of God's last days promise to the nation of Israel.  However, God has Gentiles in view as well as Jews.
Galatians 3:8 And the Scripture, foreseeing that God would justify the Gentiles by faith, preached the gospel to Abraham beforehand, saying, "In you all the nations shall be blessed."
Abraham, the father of the faith, was a heathen until he believed God and was thereby given God's righteousness by faith alone.  Now when Jews or Gentiles accept Christ as Savior, each one gets in on the same gift of righteousness, by faith alone.  At that moment God calls us "new creations" (2 Corinthians 5:17).  All things are new including our hearts.  It's amazing but every born-again child of God is re-created at the moment Christ enters their hearts.  We all get a new heart, a new spirit, His Holy Spirit (1 Corinthians 6:17) and a natural built in ability to walk in His statutes, keep His judgments and do them.  This passage in Ezekiel is foundational to understand the New Covenant God has brought each new believer into in Christ.  But there's more.
Hebrews 8:1, 6-13 Now this is the main point of the things we are saying: We have such a High Priest, who is seated at the right hand of the throne of the Majesty in the heavens,
6But now He has obtained a more excellent ministry, inasmuch as He is also Mediator of a better covenant, which was established on better promises.
7For if that first covenant had been faultless, then no place would have been sought for a second. 8Because finding fault with them, He says: "Behold, the days are coming, says the Lord, when I will make a new covenant with the house of Israel and with the house of Judah— 9"not according to the covenant that I made with their fathers in the day when I took them by the hand to lead them out of the land of Egypt; because they did not continue in My covenant, and I disregarded them, says the Lord. 10"For this is the covenant that I will make with the house of Israel after those days, says the Lord: I will put My laws in their mind and write them on their hearts; and I will be their God, and they shall be My people. 11"None of them shall teach his neighbor, and none his brother, saying, 'Know the Lord,' for all shall know Me, from the least of them to the greatest of them. 12"For I will be merciful to their unrighteousness, and their sins and their lawless deeds I will remember no more." 13In that He says, "A new covenant," He has made the first obsolete. Now what is becoming obsolete and growing old is ready to vanish away.
Hebrews chapters 7 and 8 introduce the removing of the Old Covenant of law (sin leading to death) and the establishment of the New Covenant of grace (faith leading to life).  The writer of Hebrews declares in 7:18, 19, "For on the one hand there is an annulling of the former commandment because of its weakness and unprofitableness, 19for the law made nothing perfect; on the other hand, there is the bringing in of a better hope, through which we draw near to God."
Drawing close to God is the goal of God for us in all that He does.  Christ is the capstone and completion of His work to enable us to come as close as we want.
Referring to the verses in Hebrews 8 above, Christ as High Priest initiated the entrance of the New Covenant with His own blood.  This New Covenant is a better covenant based on better promises because those promises have nothing to do with our performance.  They are not cancelled by our failures nor are they enhanced by our success.
2 Corinthians 3:6, 7, 11
6who also made us sufficient as ministers of the new covenant, not of the letter but of the Spirit; for the letter kills, but the Spirit gives life.
7But if the ministry of death, written and engraved on stones, was glorious, so that the children of Israel could not look steadily at the face of Moses because of the glory of his countenance, which glory was passing away,
11 For if what is passing away was glorious, what remains is much more glorious.
What was passing away?  The answer is that the letter of the law written and engraved on stone, though glorious, was passing away.  The ministry of the Spirit, which is much more glorious (a better covenant), will remain.  We are ministers of the New Covenant, not the letter of the law written on stone.
In Hebrews 8:13 we read that He has made the first covenant obsolete.  God is no longer using Old Covenant law as He relates to believers.  He relates to us based on the finished work of Christ.  And that's all!
Now to the Important Stuff
Hebrews 8:10"For this is the covenant that I will make with the house of Israel after those days, says the Lord: I will put My laws in their mind and write them on their hearts; and I will be their God, and they shall be My people.
There are laws in the New Covenant, just as there are in the Old Covenant.  They are not the same laws, as we shall see, and they are not enforced in the same way.  Death is removed.  Life is regained in eternal redemption.
The laws are no longer written on stone, nor on stone hearts.  These new laws are placed in our minds and written on our new hearts; hearts of flesh.  The result is that God will now be received by us as our God even as we are received as His people.
How often I have heard people say, "I know the word of God in my head.  But how do I get it in my heart?"  Then we prescribe a process of disciplined study and meditation.  Those who can discipline themselves to this degree become self-confident and arrogant.  Those who can't, become hopeless.  We have just replaced the Old Covenant laws and disciplines with our own laws and disciplines.  The results are identical; arrogance or hopelessness.
Fortunately, God's ways are higher than ours.  He not only put new laws into our minds so we can understand them, He wrote them into our hearts so we can live by them.
What's only in the mind becomes an effort we try to pull off with our will power.  It works as long as we can figure it out and have enough will power.  But sooner or later God will overcome our pride and intelligence and then our will power will not be enough.
In clear contrast, what's in the heart simply comes out.
Matthew 12:34 "Brood of vipers! How can you, being evil, speak good things? For out of the abundance of the heart the mouth speaks.
What you really believe is what is in your heart.  Those are the beliefs that will be revealed in your actions.  "When the going gets tough, the tough (in heart) get going."  What's in your heart walks and talks.  The thoughts of your mind can be forgotten.  But what is written on the fleshly tablets of your heart lives on.
Proverbs 23:7 For as he thinks in his heart, so is he.
If evil is in your heart, you can hide it for a while, but eventually it will come out.  Usually, when you don't want it to.  Similarly, a good man is known to all.
Matthew 12:35 "A good man out of the good treasure of his heart brings forth good things, and an evil man out of the evil treasure brings forth evil things.
God wrote the New Covenant commandments on our hearts so they will be natural to us.  We won't have to discipline ourselves to live by them.  The problem for Christians, when we are in a pinch, is that we go back to the thoughts and ways of the old stone heart and all its rigid rules, because they are so familiar to us.
Consider Paul's confrontation of Peter as Paul relates it to the Galatians.
Galatians 2:11-21
11Now when Peter had come to Antioch, I withstood him to his face, because he was to be blamed; 12for before certain men came from James, he would eat with the Gentiles; but when they came, he withdrew and separated himself, fearing those who were of the circumcision. 13And the rest of the Jews also played the hypocrite with him, so that even Barnabas was carried away with their hypocrisy. 14But when I saw that they were not straightforward about the truth of the gospel, I said to Peter before them all, "If you, being a Jew, live in the manner of Gentiles and not as the Jews, why do you compel Gentiles to live as Jews? 15"We who are Jews by nature, and not sinners of the Gentiles, 16"knowing that a man is not justified by the works of the law but by faith in Jesus Christ, even we have believed in Christ Jesus, that we might be justified by faith in Christ and not by the works of the law; for by the works of the law no flesh shall be justified. 17"But if, while we seek to be justified by Christ, we ourselves also are found sinners, is Christ therefore a minister of sin? Certainly not! 18"For if I build again those things which I destroyed, I make myself a transgressor. 19"For I through the law died to the law that I might live to God. 20"I have been crucified with Christ; it is no longer I who live, but Christ lives in me; and the life which I now live in the flesh I live by faith in the Son of God, who loved me and gave Himself for me. 21"I do not set aside the grace of God; for if righteousness comes through the law, then Christ died in vain."
Peter had been given a new heart with God's commandments written on it.  He no longer lived by the Old Covenant law of commandments.
See verse 14.  Paul said unto Peter during the time of sharing a meal with Gentiles and Jews together, "If you, being a Jew, live in the manner of Gentiles and not as the Jews, why do you compel Gentiles to live as Jews?"
In the freedom by which Christ has set us free (Galatians 5:1) Jew and Gentile are alike free from focusing on obedience to rules (Galatians 4:9, 10).
Galatians 5:1 Stand fast therefore in the liberty by which Christ has made us free, and do not be entangled again with a yoke of bondage.
Galatians 4:9, 10
9But now after you have known God, or rather are known by God, how is it that you turn again to the weak and beggarly elements, to which you desire again to be in bondage? 10You observe days and months and seasons and years.
Now look at Galatians 2:16 above.  No flesh has ever been or will ever be justified before God by the works of the law.  From the time of the sin of Adam until the judgment day no one has or will be able to obey the law.
Romans 3:19-23
19Now we know that whatever the law says, it says to those who are under the law, that every mouth may be stopped, and all the world may become guilty before God. 20Therefore by the deeds of the law no flesh will be justified in His sight, for by the law is the knowledge of sin.
21But now the righteousness of God apart from the law is revealed, being witnessed by the Law and the Prophets, 22even the righteousness of God, through faith in Jesus Christ, to all and on all who believe. For there is no difference; 23for all have sinned and fall short of the glory of God,
Look back at Galatians 2:18 now.  What happens?  Just as Peter bowed his knee to fear (vs 12), we bow our head (head knowledge) out of fear (even anger is fear motivated) and turn away from faith in Christ.  We turn to rules, manipulation and control or running and hiding.  When Holy Spirit says, "Stand in Christ," we run.  When He says, "Flee youthful passions," we try to defeat them in our flesh.  When someone hurts us too badly or too often, Holy Spirit says, "Forgive as Christ has forgiven you." Instead, we make a law, establish the penalty and enforce it.  Unfortunately for us, the law we make for the offender now applies to us.  Then we do the same thing (Romans 2:1-4) and find no mercy (James 2:13).
Those are all the ways of going back to the law of do's and don'ts, hardening our hearts around it as doctrine and living by it (the law written by and on stone hearts).
Back to verse 18.  We build walls of separation between us and God (Hebrews 3:12-15).  A stone heart is not softened by the love of God.  We have to repent of choosing the ways of that old heart and return to our God who reconnects us to the heart He has placed within us as new creations in Christ; the heart in which He now lives.  Whatever walls we create in unforgiveness separate us from God as well as from the people we judge.  God does not leave us, but He honors the wall we build between ourselves and others.  He is always on the other side of that wall waiting for us to open the door (Revelation 3:20, 21).
Hebrews 3:12-15
12Beware, brethren, lest there be in any of you an evil heart of unbelief in departing from the living God; 13but exhort one another daily, while it is called "Today," lest any of you be hardened through the deceitfulness of sin. 14For we have become partakers of Christ if we hold the beginning of our confidence steadfast to the end, 15while it is said:
"Today, if you will hear His voice,
Do not harden your hearts as in the rebellion."
Revelation 3:20-21
20"Behold, I stand at the door and knock. If anyone hears My voice and opens the door, I will come in to him and dine with him, and he with Me. 21"To him who overcomes I will grant to sit with Me on My throne, as I also overcame and sat down with My Father on His throne.
Any time we listen to the father of lies and then believe those lies, even in part, we bind ourselves in a yoke of bondage to the law.  We lose our freedom in Christ and need Him to break through the lies with His words of truth to again bring us out of captivity into His marvelous light.  Once your sins were paid for and you accepted Christ, as long as you don't intentionally walk away from Christ, your mistakes and periods of walking in darkness do not cost you His love or the mercy and grace of His perfect salvation.  You just have to step back into grace through faith.  There is always more than enough grace.
Next month let's look more closely at how we bind ourselves so we can learn not to.