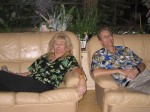 As we mentioned in March, April into early May was a time for travel and ministry in Finland.  From Kolari south to Loviisa and then north from Turku to Rovaniemi, we ministered in 15 different churches, fellowships and home groups.  Believers in Finland are hungry for God.  There is a wonderful yearning for a move of the Spirit among them.  There are many prophetic words about revival in Finland which they are crying out for.  We praise God for our Finnish Brothers and Sisters.  Because of this hunger, in 25 meetings we saw God do a lot.  Ears opened; shoulders, arms, backs, legs and feet were healed.  Veins were reconnected and varicose veins reduced to normal by God's power.  Other healings God performed included removing kidney stones, freeing a woman's voice to sing again, and several were healed of fevers, headaches and toothaches.  Jesus baptized some in the Holy Spirit and freed others of fears and anxieties.  Many came in with pain and many left pain free.  God is amazing.  I am always amazed when He does these things.  But one of the greatest things was to see believers getting free of unforgiveness so that they are no longer in torment.  Do you know that unforgiveness takes us out of the realm of God's grace and puts us back under the law of sin and death?  Forgiving the transgressions of others automatically frees us from bondage to a law of our own making.  When we do not forgive the sins of another, we create the law they must live up to.  In that moment we bind ourselves to the same law.  Because we have judged and sentenced the one who hurt us we discover that the law of sowing and reaping works against us and either we do the same thing they did (Romans 2:1,2) or others do to us what we have judged that one for (Matthew 7:1,2).  We literally get bound to the sin we won't forgive.
The primary focus of our teaching was not healing, although we taught on that subject.  Our main focus was on the freedom from sin that is ours by the grace of God.  Debby taught from Romans 6:14 that ". . . sin shall not have dominion over you: for you are not under the law, but under grace."
And Kevin often taught that Jesus took our punishment so that Romans 8:2 is true for us today.  "The law of the Spirit of life in Christ Jesus has set us free from the law of sin and death."
Too many believers believe more in the power of sin to control them – than for God's grace to empower them to enjoy their lives free from sin.  The Spirit of God is leading us out of bondage into the freedom He has destined for us.  Hallelujah!
The teaching Rest to Receive is attached to give some light.  In months ahead we will bring this out more fully.  It is more important than most subjects I could write about.  So hang in there with me.  This is good.
We love you all,
Kevin & Debby