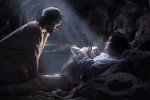 WHAT DID JOSEPH SEE?
John 3:16 (NKJV) For God so loved the world that He gave His only begotten Son, that whoever believes in Him should not perish but have everlasting life.
As Joseph gazed into the face of baby Jesus, he was seeing into the heart of God the Father.  He had given the perfect gift: His Son!  His heart beats that all of mankind be saved and translated in the kingdom of the Son of His love.  With the angels we sing, "Praise God in the Highest." for His peace has arrived on the earth in the form of a child and His good will toward us is expressed, that we become His children, for all eternity!
John 1:12 (Amplified Version) But to as many as did receive and welcome him, He gave the authority (power, privilege, right) to become the children of God, that is, to those who believe in (adhere to, trust in, rely on) His name-[Isa.56.5.]
WELCOME HIM!  BECOME CHILDREN OF HIS FATHER
Every child born instantly reveals a mother who carried her baby from conception to birth.  Every child born also carries within the ability to reveal a father to complete the identity of the child as also his.  This is more obvious today through the child's DNA.
Jesus was born of a virgin.  At His birth Mary was instantly revealed as the mother God had chosen to carry the child, from conception to birth, who would save us from sin.  The deception inherit within sin has a degree of power to hide from us the identity of the father of Jesus.  But as we see Jesus, in Spirit and truth, we see the One who has greater power within His spiritual and physical DNA to reveal God as His Father.
As the Holy Spirit deposited within Mary's womb the seed which became our Savior, the Father gives to everyone who receives and welcomes Jesus as the Son of God the power to become children of God, by faith.  This is a new union.  We become one with Jesus, with the Holy Spirit and with God the Father. Our DNA becomes new revealing our true Father in Heaven.  Only Jesus has the power to bring this about.  It is only through receiving Him that our identity becomes clearly what our Father intended from the conception of the world in His heart of hearts.
Through His birth, Jesus revealed the promised virgin.
Through the baptism and the demonstration of authority by Jesus, God revealed His Son's identity.
Through His death, Jesus purchased forgiveness of sin for all who believe.
Through His resurrection, Jesus released new life within us.
In relationship with Him, Jesus reveals His Father (Matt 11:27).
God did not send His Son to save us, just so we could go to Heaven one day.  He sent His Son to become the seed through Whom we could believe and receive the power to become His children, able to cry out, "Abba, Father!"
1 Peter 1:23 (NKJV) having been born again, not of corruptible seed but incorruptible, through the word of God which lives and abides forever,
John 12:24 (NKJV) Most assuredly, I say to you, unless a grain of wheat falls into the ground and dies, it remains alone; but if it dies, it produces much grain.
Through faith in the virgin birth and the resurrection of Jesus, the Holy Spirit implants within us a seed by which we are translated into the Kingdom of the Son of His Father's love.  And now we know we have a new DNA structure.  We are, by our choice of faith, Children of the Most High God.  Now we know the Father of Jesus is our Father, not just in Heaven but, while we live and breathe here in this life!
In the birth of Jesus, we see the heart of our Father!
Father God, thank You for Jesus, to Whom we say, "Welcome Jesus, into our hearts and lives.  Thank You, Jesus, that by receiving Your life, we have become sons and daughters of Your Father in Heaven. Praise Your Holy Name!"