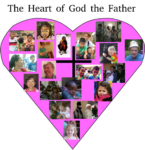 The HEART Of GOD The FATHER
Who being the brightness of His glory and the express image of His person, Hebrews 1:3
 Jesus is the express image of His Father in Heaven.  I like to say He is just like His Dad.  So Jesus said to Phillip, "He who has seen Me has seen the Father (John 14:9).  The Father was not made flesh, Jesus was.  Still, in just about every other way they are the same.
Jesus Christ is the same yesterday, today, and forever (Hebrews 13:8). 
 The Father is also the same yesterday, today and forever.  Therefore, what we sense in the heart of Jesus, He knew was in the heart of His Father.
 " . . .  I do nothing of Myself; but as My Father taught Me, I speak these things. 29 . . .  The Father has not left Me alone, for I always do those things that please Him" John 8:28, 29
So what do we see Jesus do that He saw in the heart of His Father?
Woman caught in adultery – John 8:10, 11 "I don't condemn you either."
Nicodemas, a Pharisee – John 3:1-3  Jesus related to him in honor and respect.
Zacchaeus, a tax collector – Luke 19:9 "Salvation has come to this house today."
Ate with sinners – Luke 7:34 "He is even a friend of tax collectors and sinners."
What appears more important to God – the rules? Or relationship?  You might ask, "Well, what about God's wrath?  Seems like rules are more important."
Consider that God never spoke of His wrath until Exodus 22:24
and My wrath will become hot, and I will kill you with the sword; your wives shall be widows, and your children fatherless.   
The Law was given in Exodus 20.  Notice how God responded to Israel when they failed to trust God
Before the Law:
Ex 15:22-26 – Israel grumbles as the journey starts – no punishment
Ex 16:1-15 – Israel grumbles about manna and quail – no punishment
Ex 16:27-30 – Israel violates first Sabbath rest – only reprimanded
Ex 17:1-7 – Israel grumbles about water – no punishment
God was bringing Israel to Mount Sinai to initiate (or renew) a covenant with them.  The covenant God was fulfilling to bring them to this point; destroying their enemies and loading them down with great riches was the Covenant of Promise God struck with Abraham.  In the Covenant of Promise there was no wrath because there was no written law – no set of rules.  God walked in relationship with Abraham which, over time led to greater trust in Abraham's heart towards God.  He learned God's heart.  This enabled him to offer his son Isaac on an altar to God (Genesis 22:2, 12).  Thereby he learned God is not like the gods of the nations around him.  He does not really want us to offer our children as sacrifices to Him.
Over four hundred and fifty years later God is about to offer the same covenant of promise to the whole nation of Israel and make them a nation of kings and priests to represent His heart to the world.
This is what you are to say to the descendants of Jacob and what you are to tell the people of Israel: "You yourselves have seen what I did to Egypt, and how I carried you on eagles' wings and brought you to myself. Now if you obey me fully and keep my covenant, then out of all nations you will be my treasured possession. Although the whole earth is mine, you will be for me a kingdom of priests and a holy nation." These are the words you are to speak to the Israelites (Exodus 19:3–6).
The problem was that they were so familiar with the wrath of Egyptian task masters and then they saw God deliver them from Pharaoh and his army with great power. So when they heard God's voice come with lightning and thunder from the mountain, it was too much for them.  So they said, "No. Moses, you ask God what the rules are.  Whatever He says, we will obey."  This is how it was under the Egyptians – this was familiar to them; this is what they asked for.
If we will not receive what God offers or suggests to us, God gives us what we ask for.  They saw how God reasoned with Pharaoh and then released plagues to persuade him to let His people go.  They then witnessed firsthand the destruction of the Egyptian army.  "Maybe God will talk to us like that.  But what happens when we fail?  He will kill us.  At least in Egypt, though we were punished for violating the law, we learned how to appease Pharaoh or his task masters."  They wanted a covenant they thought they could survive by.  So God gave them the Law.
After the Law:
Numbers 11:1-3 – Israel grumbles and a fire brings destruction
Numbers 11:33, 34 – Israel grumbles about manna and quail – a plague
Numbers 15:32-36 – a Sabbath violation – death by stoning
Numbers 21:4-6 – Israel grumbles about food and water – deadly serpents
The Apostle Paul understood this very clearly.  One need only read casually through his letters to the Romans, Corinthians and Galatians.
Paul warned: Don't go back to the Law.  Why?  He knew that:
The power of sin is the Law – 1 Corinthians 15:56
The Law works wrath – Romans 4:15
Those who live by the Law are under the curse – Galatians 3:10
Jesus came to reveal God's heart to:
Free us from sin – Romans 6:7. No Law = no sin – Romans 5:13
Fulfill the Law and bring it to an end – Matthew 5:17, 18 – Hebrews 8:13
In that He says, "A new covenant," He has made the first obsolete. Now what is becoming obsolete and growing old is ready to vanish away. (Hebrews 8:13).  
Put a higher law of love in our hearts – John 15:12 – Hebrews 8:10-11
Not keep a record of our transgressions (sins) anymore – Hebrews 8:12
Become a curse for us, removing it from those who believe – Galatians 3:13, 14.
A covenant of Law requiring a god of wrath was never in the heart of God our Father.  God's heart has always been to give us the joy of salvation.
1 And in that day you will say: "O Lord, I will praise You; Though You were angry with me, Your anger is turned away, and You comfort me. 2 Behold, God is my salvation, I will trust and not be afraid; 'For Yah, the Lord, is my strength and song; He also has become my salvation.' " 3 Therefore with joy you will draw water from the wells of salvation. (Isaiah 12:1–3).
The heart of the Father is a well of love which moved Him to send His Son so we would not perish but have eternal life (John 3:16).  By believing in Jesus, our well of salvation, a fountain of life giving water springs up within our spirits which never runs dry.  Those who drink from that fountain receive the living water of the Holy Spirit and never thirst again.  This is the heart of God the Father.
but whoever drinks of the water that I shall give him will never thirst. But the water that I shall give him will become in him a fountain of water springing up into everlasting life." (John 4:14) 
 37 On the last day, that great day of the feast, Jesus stood and cried out, saying, "If anyone thirsts, let him come to Me and drink. 38 He who believes in Me, as the Scripture has said, out of his heart will flow rivers of living water." 39 But this He spoke concerning the Spirit, whom those believing in Him would receive; . . . the Holy Spirit (John 7:37–39 ).
 The good and loving heart of God the Father is the same as the Son and the Holy Spirit and they have never changed!