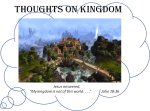 Thoughts on Kingdom
"Kingdom is a huge concept and I'm just beginning to understand the enormity of it."  This comment from JJ accurately reflects my appraisal of the task of delving into this subject.  JJ's brief treatment however, touches the more important realities of the kingdom which Jesus initiated during His ministry on the earth.  The rest of her comment comes a little later.
My first thoughts: For there to be a kingdom, there must first be a king and there must be a domain.  DC expressed similar ideas as she wrote about the kingdom,
DC     Jan 5
To me, kingdom means God's domain. And His desire is that all the earth be under His influence and power in this kingdom.  That practical application of His heart is to be infiltrated into the hearts and minds of believers, no matter what stage they are in.  He honors even a little faith and will pour into anyone who wants more.
To know when Jesus was anointed by God as King and what domain Jesus reigns over, let's examine the Scriptures.
Matthew 2:1, 2  Now after Jesus was born in Bethlehem of Judea in the days of Herod the king, behold, wise men from the East came to Jerusalem, 2 saying, "Where is He who has been born King of the Jews? For we have seen His star in the East and have come to worship Him."
 These wise men knew something King Herod and his advisors had no clue about.  When Jesus was born, the King of the Jews had arrived in Israel.  In the womb of Mary the King entered the earth as a seed.  This seed is as the mustard seed Jesus said would grow up to be the largest tree in the garden.  It is also the fulfillment of His parable of the woman who hid leaven in three measures of meal until the whole was leavened (Matthew 13:31-33).  Jesus arrived in such an infinitesimal form, yet He arrived as King.  And the kingdom started in the womb of His human mother, Mary.  How did it begin?  It began as she trusted in the word God spoke to her through Gabriel.  And this is how the kingdom expands and grows.  Every time someone believes that Jesus is the Christ, the kingdom expands into their hearts in righteousness, peace and joy (Romans 14:17).
Speaking of Jesus, the angel Gabriel declared the promise to David would be fulfilled through the child which would come forth from the womb of Mary.
Luke 1:32 (NKJV) He will be great, and will be called the Son of the Highest; and the Lord God will give Him the throne of His father David. 
 David had been the one king over Israel that God had promised would be given an everlasting kingdom.  How?  Mary was of the line of David.  When Jesus was born of Mary, He was considered a seed of David and was the only perfect candidate to fulfill God's promise to David.
2 Samuel 7:16, 17 (NKJV) And your house and your kingdom shall be established forever before you. Your throne shall be established forever. 17 According to all these word s and according to all this vision, so Nathan spoke to David.
 David had been king over Israel.  Herod was sitting on the throne of Israel when Jesus was born.  Yet what we've seen from the verses above is a subtle hint that when Jesus was born, He was already considered to be a king.  How?  Consider the answer Jesus gave Pilot when he asked Him, "Are You the King of the Jews?"
John 18:36 (NKJV) Jesus answered, "My kingdom is not of this world. If My kingdom were of this world, My servants would fight, so that I should not be delivered to the Jews; but now My kingdom is not from here."
 Wait a minute.  Jesus was born into a physical world in a physical body.  So what was happening?  Jesus was not telling Pilot that He was not a king.  He said His kingdom was not of this physical world.  His Kingdom is a spiritual kingdom.  His kingdom is a kingdom of those who will allow Jesus into their hearts.  That's what Paul meant when he said the kingdom is not in what you eat or drink, but in righteousness, peace and joy in the Holy Spirit.  It's a spiritual kingdom that unites believers who are one with the Holy Spirit by faith in the King of kings (1 Corinthians 6:17).
Romans 14:17 (NKJV) for the kingdom of God is not eating and drinking, but righteousness and peace and joy in the Holy Spirit.
 On this line LM wrote:
LM       Jan 22
To me, "Kingdom" indicates a place where we worship our Creator and reign and rule with our Creator in peace, love and joy eternally. 
Those who worship God must worship Him in Spirit and truth.  When the Spirit of Truth lives in your heart, then what is in your heart will walk and talk.  What's in you will come out.  And when your King is Jesus, you carry the kingdom inside you everywhere you go.  Just being you, the righteousness, peace and joy in the Holy Spirit will come out of you and touch those around you.  That's why Jesus could tell His disciples to preach the kingdom, heal the sick, cleanse the lepers, cast out devils and raise the dead and tell those who heard them that the kingdom of God had come to them and was at hand.  In other words, the kingdom was as close to them as the child of God speaking to them.
Do you have Jesus the King in your heart?  Wherever you go the kingdom is within you and thereby available, close at hand, to everyone around you.
This is what JJ was writing about when she sent the following to me.
JJ    Jan25/Feb 22
Kingdom is a huge concept and I'm just beginning to understand the enormity
of it.  Here's just a start of what I understand of it.
Kingdom to me means being a part of eternity right now.  Jesus came to usher in the kingdom by dying on the cross and rising again as payment for my sins.  Since receiving Jesus into my heart/life I have been a part of that kingdom.  He has given me life in this kingdom, both now in this earthly life and when my physical body dies.  Just as Jesus died and was resurrected, so will I be. Just as He had a physical body after death, so will I have a new physical body of some sort after my physical death.  Without a relationship with Jesus, there is no kingdom for the individual; but with Him, there are all kinds/sorts of possibilities for new life.
As I encounter others who are also a part of this kingdom, we together, can realize ever increasing facets of this kingdom or relationship.  I believe there is both a personal and a corporate aspect to the concept of kingdom.
Just as my salvation happened because of Jesus' call to me, in like manner, I believe the manifestation of kingdom both to me and others flows from a recognition of the love of Jesus.  To the extent that I am able to receive Jesus' love, I believe I will be able to more fully realize/recognize the kingdom now and pass it on to others. The kingdom is always there for those who will receive it. I believe we can help others in their ability to receive the kingdom by our testimonies of His work in our lives.
As believers, we are like brothers and sisters in a family.  One day, we will all get to see the whole kingdom; but for now, we each see in part.  Hallelujah for His love that continues to draw us deeper and deeper into this kingdom as we are open to Him!
MW expresses similar thoughts in her own special way.
MW      Jan 9
"Kingdom:" The first thing that comes to my mind is, having a Kingdom mindset.  Which means acknowledging I am walking with Jesus at all times. He is walking with me. I am seated with Him right now, as I type. Nothing can separate me from Him.  So, therefore, at all times I have direct access to Him, in the Kingdom and can be guided at ALL times by Him.
Thank you Jesus!
My Deliverer! He is readily available 100% of the time. 24 hours a day.  Let Him help.
Jesus was talking about a here now reality when he said the kingdom of God is in you (Luke 17:21).  And Paul was talking the same language when he said the kingdom of God is not what you eat or drink, but an inner reality of righteousness, peace and joy.  When you receive Jesus by faith, you get His righteousness (Philippians 3:9).  And when you get Jesus you also get the Holy Spirit who downloads His love into your heart (Romans 5:5).  His love includes many attributes, two of which are peace and joy growing naturally as fruit in the heart of the believer (Galatians 5:22).  So, the kingdom of God is here, right now and expanding every day within you and around you and in every child of the Most High God.
Because this is true, Jesus told His listeners this inner kingdom reality is the most important thing for them to apprehend from Him by faith; that He is indeed the One the Father sent to redeem us so the Father could give us the Kingdom.
Madrina            Jan 21
Matthew 6:33  Seek 1st. the KINGDOM of God
Matthew 5:10  Blessed are those that are persecuted for righteousness sake for theirs is the KINGDOM of heaven.
AK went deeper.  What follows is only a portion.
AK          Jan 12
The Kingdom of Heaven has very much been on my mind since December. I've felt an emphasis on the value/importance of seeing the realities of Heaven, bringing the Kingdom of Heaven to earth from here on out. I've thought about this from several perspectives.
1) Healing.  There is no disease/sickness in heaven. Our spirit, which is a part of the Heavenly reality, is healed, whole, set free and renewed; right? If we were able to come into alignment, spirit/soul/body, with the reality of Heaven, we would experience healing here on earth. Our spirits know the reality, but it's going to take a renewed mind and willingness to submit to that heavenly perspective and receive the truth of the Lord about us.
2) Identity.  I have felt a strong push to know who I am in the spirit, my spiritual identity. If I know who I really am, I am more apt to hear from the Lord and walk in the spirit, bringing the Kingdom of Heaven to earth.
Romans 8:18-22. "The creation eagerly awaits for the revealing of the sons of God". My spirit jumped when I read that verse a few months ago. For the REVEALING of the sons of God…"
Imagine if the body of Christ realized who they really are, it would change everything!! Imagine the freedom that would come and the pure Gospel that would go out. It's like we are asleep and waiting to wake up. As I was thinking about all this within the past month or 2 I felt like Hancock (Will Smith super hero movie). I felt like I had amnesia but was starting to remember who I was and what I was here on earth to do.
3) Spirit realm.  There is so much going on in the spiritual realm we are unaware of, what is really going on and how to shift atmospheres and realities. If we knew, I believe our prayers and speech would be a lot different.
4) Know the Lord.  All in all the bigger picture for me in it is seeing Who the Lord really is, what He is really concerned about, what our part and responsibilities are in it and experiencing His heart in present reality.
The key similarity of all these individual comments is that each of these people somehow understands that Jesus is King now, in spirit, yes, but affecting our world through us.  We are His kingdom, and we are spreading the influence of His kingdom everywhere we go.