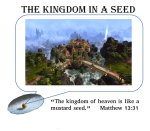 THE KINGDOM IN A SEED
At Christmas time it's important to remember the giving nature of our Father in Heaven.
Luke 1:26–27, 30-35
26 Now in the sixth month the angel Gabriel was sent by God to a city of Galilee named Nazareth, 27 to a virgin betrothed to a man whose name was Joseph, of the house of David. The virgin's name was Mary.
30 Then the angel said to her, "Do not be afraid, Mary, for you have found favor with God. 31 And behold, you will conceive in your womb and bring forth a Son, and shall call His name Jesus. 32 He will be great, and will be called the Son of the Highest; and the Lord God will give Him the throne of His father David. 33 And He will reign over the house of Jacob forever, and of His kingdom there will be no end." 34 Then Mary said to the angel, "How can this be, since I do not know a man?" 35 And the angel answered and said to her, "The Holy Spirit will come upon you, and the power of the Highest will overshadow you; therefore, also, that Holy One who is to be born will be called the Son of God.
 Nine months prior to the birth of our Savior the Father sent the Holy Spirit to implant a seed into the womb of a virgin of the line of King David.  Through Mary, God gave us a king and a kingdom.
Matthew 13:31, 32
31 Another parable He put forth to them, saying: "The kingdom of heaven is like a mustard seed, which a man took and sowed in his field, 32 which indeed is the least of all the seeds; but when it is grown it is greater than the herbs and becomes a tree, so that the birds of the air come and nest in its branches."
 Even as a babe in a manger, Jesus was, as it were, a seed planted in the dust of human society.  Now He has grown up as the Tree of Life.  His branches drop leaves of healing and life which flow on the River of Life (the Holy Spirit) to all the nations of the earth.
Luke 12:32 "Do not fear, little flock, for it is your Father's good pleasure to give you the kingdom."
 It's the Father's nature and His good pleasure to give the kingdom to whoever will come and freely receive Jesus as their Savior and King.
The Father loves to give good gifts.  Jesus, as King, is the best gift He has ever given to fallen man.  For this Jesus is the full expression of the angels' declaration of peace and good will toward men (all people).  Open the Father's gift to you and let God's love flow into your heart this season and everyday for the rest of your eternity.
Luke 2:11–14
11 For there is born to you this day in the city of David a Savior, who is Christ the Lord. 12 And this will be the sign to you: You will find a Babe wrapped in swaddling cloths, lying in a manger." 13 And suddenly there was with the angel a multitude of the heavenly host praising God and saying: 14 "Glory to God in the highest, And on earth peace, good will toward men!"