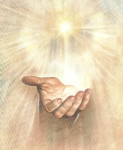 Come!
Matthew 11:27–30
27 All things have been delivered to Me by My Father, and no one knows the Son except the Father. Nor does anyone know the Father except the Son, and the one to whom the Son wills to reveal Him. 28 Come to Me, all you who labor and are heavy laden, and I will give you rest. 29 Take My yoke upon you and learn from Me, for I am gentle and lowly in heart, and you will find rest for your souls. 30 For My yoke is easy and My burden is light."
Jesus reveals the Father.  When we come to Jesus, we receive Jesus and the Father (John 14:23).  How do we come?  We come freely.  The Gospel is free – that's why it is called Good News.  One thing is required.  Faith.
1 John 3:23 And this is His commandment: that we should believe on the name of His Son Jesus Christ . . .
When the religious crowd wanted a work they could do to be approved by God, Jesus answered them with something they could not do without His help.
John 6:29 Jesus answered and said to them, "This is the work of God, that you believe in Him whom He sent."
And surprise – faith (believing) is not a work.  Jesus gives us the faith we need, if we will just come to Him and listen.
Romans 10:17 . . . faith comes by hearing, and hearing by the word of God.
Jesus is the Word of God speaking faith into our hearts.  When the faith of Jesus is activated in our hearts it has a natural result.  It produces the work of God Jesus spoke of above; believing in Him.  Sometimes to activate His faith within us, we have to muster the faith we have and act on the word He has spoken.  When we sense Him saying to us, "Come!" we get up and go.
The Burden
Jesus is the word of God and He is speaking a word, "Come!"  If we can hear that word, it gives us faith to go to Him.  But our ears are dull.  We are heavy laden with a burden we don't know how to lay down.  It makes us weary and unable to hear.  What's the burden we carry?  Our burden is the effort to do good works well enough to be counted worthy to come.  We have heard all our lives that we must carry it to be approved.  We are tired from carrying it, but we are convinced that carrying it is our only hope.  We hear the words Jesus speaks, but they do not produce faith to come as we are, freely.  Because those words have been linked somehow to the instruction to first prove ourselves, taught by those we have trusted to teach us.  Laying down that burden is too frightening.
Luke 11:46 And He said, "Woe to you also, lawyers! For you load men with burdens hard to bear, and you yourselves do not touch the burdens with one of your fingers."
The lawyers and teachers of the law get their approval by teaching us the unachievable, though they know they themselves have not mastered them.  Apart from Jesus, no one can.
Jesus carried the burden.
Paul understood that Jesus offers us the answer; He carried the burden for us.  Jesus is asking us to trust His finished work.  There is no work, no burden for us to carry except the hardest thing for us to do.  Disregard the instruction of the teachers of the law.  Lay down your burden; your unachievable task.  Go to Jesus, give it to Him, and allow Him to bring you to God the Father without proving your worth.  Let go of pride and the lie that carrying the burden is the only way.  Jesus is the only way.  Hear Him speak that word and come to Him.
Paul was so disturbed by the teaching of the legalists in the church that he journeyed to Jerusalem to make sure the Apostles and elders were not also teaching it.  The legalists argued that the Gentiles Paul led to Christ must also be circumcised, as they were, and live by the law.  Peter stood up and asked why they should put the same unachievable burden on the necks of the Gentiles that neither their fathers nor they could bear.  The Apostles agreed with Peter and Paul.  For the moment the legalists were silenced.
How would they then instruct the Gentiles?  To accept Jesus' invitation to come in faith, give up the heavy burden, let Him purify their hearts by faith and be saved by grace.
Acts 15:8–11
8 So God, who knows the heart, acknowledged them by giving them the Holy Spirit, just as He did to us, 9 and made no distinction between us and them, purifying their hearts by faith. 10 Now therefore, why do you test God by putting a yoke on the neck of the disciples which neither our fathers nor we were able to bear? 11 But we believe that through the grace of the Lord Jesus Christ we shall be saved in the same manner as they."
So how did God justify purifying the hearts of the Gentiles?  The Father purified their hearts by faith alone in the saving grace of Jesus.  Jesus revealed the Father.  He also revealed the heart of His Father concerning the law when He cleansed a leper without requiring him to perform any cleansing rituals.
Matthew 8:2–4
2 And behold, a leper came and worshiped Him, saying, "Lord, if You are willing, You can make me clean." 3 Then Jesus put out His hand and touched him, saying, "I am willing; be cleansed." Immediately his leprosy was cleansed. 4 And Jesus said to him, "See that you tell no one; but go your way, show yourself to the priest, and offer the gift that Moses commanded, as a testimony to them."
Under the law a leper had to observe certain cleansing rituals and remain separate from everyone else until the priests could see and pronounce them clean.  When the leper came to Jesus, all the requirements of the law were set aside.  Once Jesus touched a leper and pronounced Him clean, the leper was instantly clean – by what?  Not the cleansing rituals of the law.  Those were often useless.  What cleansed the leper?  The faith of Jesus, as He spoke, "Be cleansed."  It was a gift; grace.  Then He sent him to the priest as a testimony to them that He was cleansing lepers without the law.
Ephesians 2:8, 9
8 For by grace you have been saved through faith, and that not of yourselves; it is the gift of God, 9 not of works, lest anyone should boast.
The word "saved" in the Greek is sozo which means saved, healed, delivered and made whole.  It includes being cleansed of leprosy.  How?  Through faith alone.   In this the heart of God the Father is revealed.  Jesus had perfect faith in the Father's good, pleasing and perfect will.  We can have that kind of faith too, if we will go to Jesus with the faith we have.
"Come!"
The Father sent Jesus.  Jesus revealed the Father and calls to us, "Come.  Lay down your legal burdens.  Receive My light burden of grace by a simple word of faith which I am speaking into your souls.  Listen!  All you need is My word of faith and you can freely receive rest for your souls in Father's presence.  Come!"
Isaiah 55:1–3
1 "Ho! Everyone who thirsts, Come to the waters; And you who have no money, Come, buy and eat. Yes, come, buy wine and milk Without money and without price. 2 Why do you spend money for what is not bread, And your wages for what does not satisfy? Listen carefully to Me, and eat what is good, And let your soul delight itself in abundance. 3 Incline your ear, and come to Me. Hear, and your soul shall live; And I will make an everlasting covenant with you— The sure mercies of David.