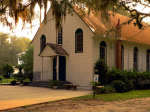 SOME THINGS NEVER CHANGE, but . . .
 Matthew 11:28 Come to me and I will give you rest . . ."
 God has always wanted a relationship with us based on love and trust.  He has offered that to us at every turn; in the Garden, talking with Cain and the covenants with Noah and Abram.  God did not want us bound up by a bunch of rules which we could never live by.  Yet at every attempt to relate to us by promise, man rejected closeness with God in favor of rules and mediators.  So God gave man rules, mediators, kings and on and on it goes.  Man could never abide by the rules he craved, but always adjusted them to his own liking or rejected them altogether.
To end this charade, God sent His Son, Jesus, to fulfill the law perfectly and bring its requirements to an end by doing so.  The purpose is to allow man to come to Him in grace by faith alone.  But, wouldn't you know it; man rejected the free gift and continued to demand rules.
It's almost funny.  Because God gives man what he demands, though they cannot live by the rules; man blames God and turns away to create his own system – again and again.
The church as we see it today has done the same thing.  We would rather sit in pews once or twice a week and have a mediator speak to us for God rather than let the Holy Spirit teach us how to relate to Him in grace and truth, in His righteousness and peace and in His love and joy.  He gives all these things free of charge to those who will come to Him in faith.
But we choose form over the power of face-to-face relationship with the God who has always loved us and will never stop offering us a relationship of intimate joy with Him.  As always, the choice remains with us.
When will we finally take courage in God's faithfulness and come to Him to find rest from our burden of rules?  When we will reject a relationship with rules and choose a relationship with the God who loves us?
Hebrews 12:2 Looking unto Jesus the author and finisher of our faith; who for the joy that was set before him endured the cross, despising the shame, and is set down at the right hand of the throne of God.