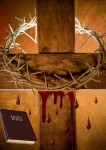 TWO THINGS CAN CLEANSE OUR SOULS
1 Peter 1:22 Since you have purified your souls in obeying the truth . . .
 John 6:29 Jesus answered and said to them, "This is the work of God, that you believe in Him whom He sent."
 Notice Peter says we purify our souls by obeying the truth.  How do you obey the truth?  You do the one work that is required.  You believe on He whom the Father sent.  Jesus is the word of God (John 1:1) and He is the Truth (John 14:6).  To obey the truth is to put faith in the word of God, Jesus.  The key is faith.
Two things can cleanse our souls – the blood of Jesus and the word of God.  Both are activated by our faith.
Hebrews 9:12 (KJV) Neither by the blood of goats and calves, but by his own blood he entered in once into the holy place, having obtained eternal redemption for us.
 Revelation 1:5 and from Jesus Christ, the faithful witness, the firstborn from the dead, and the ruler over the kings of the earth. To Him who loved us and washed us from our sins in His own blood,
 Before Jesus shed His blood, He told the disciples that they were already clean because of the word He spoke to them.
John 15:3 "You are already clean because of the word which I have spoken to you."
 Why?  Only because they believed.
Galatians 2:16 "knowing that a man is not justified by the works of the law but by faith in Jesus Christ, even we have believed in Christ Jesus, that we might be justified by faith in Christ and not by the works of the law; for by the works of the law no flesh shall be justified."
 Faith is what God requires.  Abraham was justified by faith alone.  He knew a Redeemer would come.  The disciples knew that Jesus was their Messiah.  Both entered into covenants with God without conditions only because they believed God.  In Genesis 15 God, standing alone on the blood of the slain animals, bound Himself to the covenant He made with Abraham.  He did not bind Abraham.
Just the same, God the Father and Jesus made a covenant in the blood of Jesus, binding Them alone.  God required nothing of us but faith in the finished work of Jesus on the cross.  No list of "do's and don'ts" makes us righteous.
But when we trust the blood of Christ to cleanse our sin – then we are made holy and washed perfectly from all our sin.
Romans 5:8 ,9
8 But God demonstrates His own love toward us, in that while we were still sinners, Christ died for us. 9 Much more then, having now been justified by His blood, we shall be saved from wrath through Him.
 Jesus shed His blood to wash away our sin before we sinned one time.  Does He have to shed more blood, if you sin again after you are born again?  No! Why?  Because His blood washes away all your sin (1 John 1:7), even those you have not committed yet.  If you believe, you receive.