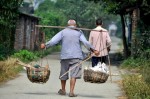 THE YOKE OF BONDAGE
 Galatians 2:1-5
1 Then after fourteen years I went up again to Jerusalem with Barnabas, and also took Titus with me. 2 And I went up by revelation, and communicated to them that gospel which I preach among the Gentiles, but privately to those who were of reputation, lest by any means I might run, or had run, in vain. 3 Yet not even Titus who was with me, being a Greek, was compelled to be circumcised. 4 And this occurred because of false brethren secretly brought in (who came in by stealth to spy out our liberty which we have in Christ Jesus, that they might bring us into bondage), 5 to whom we did not yield submission even for an hour, that the truth of the gospel might continue with you.
 Galatians 2:11-14
11 Now when Peter had come to Antioch, I withstood him to his face, because he was to be blamed; 12 for before certain men came from James, he would eat with the Gentiles; but when they came, he withdrew and separated himself, fearing those who were of the circumcision. 13 And the rest of the Jews also played the hypocrite with him, so that even Barnabas was carried away with their hypocrisy. 14 But when I saw that they were not straightforward about the truth of the gospel, I said to Peter before them all, "If you, being a Jew, live in the manner of Gentiles and not as the Jews, why do you compel Gentiles to live as Jews?"
 Acts 15:10 "Now therefore, why do you test God by putting a yoke on the neck of the disciples which neither our fathers nor we were able to bear?"
 The yoke I am writing about is the same yoke Paul wrote to the Galatians about and warned them not to be entangled in again.
Galatians 5:1 Stand fast therefore in the liberty by which Christ has made us free, and do not be entangled again with a yoke of bondage.
 The bondage the yoke puts us into is slavery to a set of laws neither the disciples nor any of the Jews were able to endure or measure up to.  Keep in mind that Paul was writing to saved believers living in the grace of God.  This bondage is entered back into when we start demanding ourselves to live according to any religious law in the power of our flesh.  This is the same bondage Paul told the Romans that we did not receive when we believed in Christ.
Romans 8:15 For you did not receive the spirit of bondage again to fear, but you received the Spirit of adoption by whom we cry out, "Abba, Father."
 But we did receive the Holy Spirit who empowers us with grace (God's powerful ability) to be and to live righteous, holy and acceptable unto our God.
You do not have to fear failing to live up to the law anymore.  Christ has fulfilled it all for you (Romans 10:4, 11).  Now we have the Spirit of God within us by which we are able to cry out, sing out in joy or whisper in quiet meditation "Abba, Father" (Daddy).
Titus 2:11, 12 (Amplified Version)
11 For the grace of God (His unmerited favor and blessing) has come forward (appeared) for the deliverance from sin and the eternal salvation for all mankind.
12 It has trained us to reject and renounce all ungodliness (irreligion) and worldly (passionate) desires, to live discreet (temperate, self-controlled), upright, devout (spiritually whole) lives in this present world,
 Notice the language in the Amplified Version.  The grace of God trains us what to reject and renounce and how to live discreet, upright and devout lives.  It is by the Spirit we put to death the deeds of the flesh.
Romans 8:13 For if you live according to the flesh you will die; but if by the Spirit you put to death the deeds of the body, you will live.
 Remember singing the song, "Not by might, not by power?"  That invalidates human will power.  The song continues, "But by My Spirit saith the Lord of Hosts."  The Holy Spirit is the power behind the grace of God that enables us to live in faith because of the blood of Christ.
Zechariah 4:6, 7
6 So he answered and said to me: "This is the word of the Lord to Zerubbabel: 'Not by might nor by power, but by My Spirit,' Says the Lord of hosts. 7 'Who are you, O great mountain? Before Zerubbabel you shall become a plain! And he shall bring forth the capstone With shouts of "Grace, grace to it!" ' "
 I remember being in many churches singing, "Not by might, not by power, but by My Spirit saith the Lord of Hosts."  We believed that.  Despite that, we agreed together in those churches to put ourselves under the laws of either the Old Covenant (Deuteronomy 28) or laws of our own making (Galatians 2:18).
Colossians 2:21, 22
21 "Do not touch, do not taste, do not handle," 22 which all concern things which perish with the using—according to the commandments and doctrines of men?
 And we were not able to live under the burden of them any more than the Jews or disciples, because the power of sin is the law.
1 Corinthians 15:56 The sting of death is sin, and the strength of sin is the law.
 Notice in Zechariah 4:7 above, that it is grace, grace that leveled the mountain for Zerubbabel; not manpower or human ingenuity.  Man can do a lot, but what is impossible with man is possible with God.
There are no permanent breakthroughs against sin or addiction in man's schemes or will power.  But there is abundant deliverance and freedom to stand in liberty through the blood of Jesus which is activated in a believer's life through grace by faith (Ephesians 2:8, Romans 5:2).  That's the Holy Spirit's work in us and for us.
Any people who strive against sin by their own will power to live up to any requirements derived from the Law of Moses have forsaken the grace of God to do so.  For He is no longer using the Old Covenant laws for the believer.  The sad result is that they are striving against sin on their own and God is not helping them
James 4:6 But He gives more grace. Therefore He says: "God resists the proud, But gives grace to the humble."
 God's Spirit empowers believers over sin through the grace activated through faith in the shed blood of Christ and in His promise to give us the Holy Spirit to empower us.
Grace and truth came by Jesus Christ and He sent the Holy Spirit as the agent of both within us.
John 1:17 For the law was given through Moses, but grace and truth came through Jesus Christ.