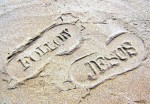 "To know Me is to Follow Me," – Jesus
Part 2
 We Bind Ourselves
Galatians 5:1-6
1Stand fast therefore in the liberty by which Christ has made us free, and do not be entangled again with a yoke of bondage. 2Indeed I, Paul, say to you that if you become circumcised, Christ will profit you nothing. 3And I testify again to every man who becomes circumcised that he is a debtor to keep the whole law. 4You have become estranged from Christ, you who attempt to be justified by law; you have fallen from grace. 5For we through the Spirit eagerly wait for the hope of righteousness by faith. 6For in Christ Jesus neither circumcision nor uncircumcision avails anything, but faith working through love.
 The liberty in Christ is God's grace for our salvation by faith alone.  None of our works of righteousness gave us any merit (Romans 5:1, 2).  It's only by God's grace we are saved and only by God's grace we stand in the liberty paid for in the blood of Christ.  All attempts to earn salvation by works of the law fail.  All attempts to remain in grace by the law also fail.
How does a believer get entangled in a yoke of bondage?  He adds any tenet of the law as though it were necessary.  As soon as he adds circumcision or church attendance as mandatory – then he builds a wall of separation and loses the benefits of the New Covenant in Christ.
According to verse 3 he must now obey every article of the law; the holy days, offering of lambs for his sin, no work from 6pm Friday until 6pm Saturday.  Plus he must know and obey hundreds of other laws.  In Christ there are only two commandments and they are written on our new hearts and therefore we naturally obey them.
It's interesting that Paul makes this point by referring to circumcision.  Not only was that the issue some Jews were using to disqualify the Gentiles, but also circumcision originated as a sign of the covenant of faith which God made with Abraham (Genesis 17).  Circumcision was commanded about 413 years before the law was given through Moses.  It was added at least 15 years after God cut the covenant of promise with Abraham in Genesis 15, solely because he believed God.
[Paul understood that the law of sin and death (Romans 8:2) goes back to the Garden of Eden.  But what also goes back to the Garden is God's desire that we trust Him.]
Paul was, in effect, invalidating all observance of law for justification before God.
Romans 8:2 For the law of the Spirit of life in Christ Jesus has made me free from the law of sin and death.
 Galatians 3:11 But that no one is justified by the law in the sight of God is evident, for "the just shall live by faith."
 Galatians 3:14 that the blessing of Abraham might come upon the Gentiles in Christ Jesus, that we might receive the promise of the Spirit through faith.
 So now look at Galatians 5:4
Galatians 5:4 You have become estranged from Christ, you who attempt to be justified by law; you have fallen from grace.
 This is a strong statement.  But Paul is appealing to us to put all our faith in the finished work of Christ for every aspect of salvation.  As soon as we appeal to the law for any part of our salvation, we nullify the provision of Christ and we count His blood as a vain thing.
Galatians 5:6 For in Christ Jesus neither circumcision nor uncircumcision avails anything, but faith working through love.
Paul concludes that circumcision adds nothing to your justification.  And likewise, boasting that you are not circumcised adds nothing.  There are only two things that avail anything in Jesus Christ – "faith working through love."  Faith and love avail much when they originate from and focus on Christ.
God has always loved us and will never stop.  It is faith or confidence/complete trust in His love and goodness that activates God's mercy and grace within us.  Therefore this is what He has always looked for in the heart of man: faith.  That's all He needed from Adam and Eve in the garden; faith in His word above every other word.
When God created Adam He was after a relationship of faith and love freely chosen.  It's the whole free-will requirement that necessitated all God's careful planning and long faithful endurance.  But He is getting what He has willed through the blood of His own Son and the patient work of the Holy Spirit.  The Father's love is perfect.  So is His wisdom.
God wants relationship.  That's His focus.  Knowing this and that performance under the law of commandments will never justify us before God; I looked at verses like 1 John 2:3 and John 14:15.  I wondered why they seemed to contradict what I understood to be God's heart.  Was the focus on knowing Him and loving Him – or was it on obedience?
1 John 2:3 Now by this we know that we know Him, if we keep His commandments.
 John 14:15 "If you love Me, keep My commandments.
 One day I was meditating on 1 John 2:3 and sensed the answer was very near.  Yet, I was not getting it.  I asked God to explain it to me.  This is how He put it, "The grace I give to keep My commandments testifies to you that you know Me."  When we really know Him, obeying His commandments is easy.  It's even natural.  When you know Him, you will love Him and obeying Him will naturally follow.  The focus is not on obedience.  The focus is on relationship.  The law makes rules and performance the focus.  And those who live under the law interpret God's word that way.
That's why Romans 3:19 says that the law speaks to those who are under the law, making all of us guilty before God.  But Paul continues in verse 20 that no flesh will be justified by the deeds of the law.  And then he gives God's real and final method of justifying us in verses 21 and 22.
Romans 3:19-23
19Now we know that whatever the law says, it says to those who are under the law, that every mouth may be stopped, and all the world may become guilty before God. 20Therefore by the deeds of the law no flesh will be justified in His sight, for by the law is the knowledge of sin.
21But now the righteousness of God apart from the law is revealed, being witnessed by the Law and the Prophets, 22even the righteousness of God, through faith in Jesus Christ, to all and on all who believe. For there is no difference; 23for all have sinned and fall short of the glory of God,
 Indeed the just shall live by faith.  So Paul concludes very clearly in Romans 6:14 "For sin shall not have dominion over you, for you are not under law but under grace."
 Back to what God told me was His interpretation of our English version of 1 John 2:3; grace to know Him gives us grace to keep His commandments.  Knowing Him is the focus.  He wants you and I to know Him.  If you know Him, you will follow Him, because you will love Him.
"To know Me is to Follow Me," – Jesus
Part 3
To Clear Up Another Misconception
Now to clear up another misconception.  Jesus taught those who were under the law that they must obey the law.  He meant all the law.  Why?  Because He had not shed His blood yet.
Matthew 5:17-20
17"Do not think that I came to destroy the Law or the Prophets. I did not come to destroy but to fulfill. 18"For assuredly, I say to you, till heaven and earth pass away, one jot or one tittle will by no means pass from the law till all is fulfilled. 19"Whoever therefore breaks one of the least of these commandments, and teaches men so, shall be called least in the kingdom of heaven; but whoever does and teaches them, he shall be called great in the kingdom of heaven. 20"For I say to you, that unless your righteousness exceeds the righteousness of the scribes and Pharisees, you will by no means enter the kingdom of heaven.
 Jesus, as the word of God, gave us the law.  The law is perfect.  But it requires perfect obedience or you could not enter God's kingdom.  So Jesus came to fulfill all righteous requirements of the law for us.  And He did.  He fulfilled all the law for us who believe (Romans 3:21, 22).
Notice in Matthew 5:17 that He came to fulfill all the law and the prophets and also in Romans 3:21 that the law and the prophets are two witnesses that He did so.  All you have to do is study the law and the prophets and you can see that Jesus met every requirement of the law and fulfilled every prophecy concerning the Messiah and Savior of Israel and the whole world.
In Matthew 5:20 Jesus raised the bar of requirements for one to be declared righteous by observing the law.  You must be more righteous than the scribes and Pharisees.  The scribes and Pharisees were strict enforcers of the law.  When they found a woman committing adultery they brought her to Jesus with stones in their hands.  He turned the table on them when His response revealed to them what was in their hearts.  As we look further through Matthew 5 we find in verses 27 and 28 that He revealed how high the bar was set.  They may not have physically had sexual relations with this woman themselves, but had they ever lusted in their hearts toward any woman, or embraced anger in their hearts toward someone, then they had already committed adultery or murder in God's eyes.  They were guilty and needed a Redeemer or they should die.  But with Christ, it has always been relationship not rules.  That's why King David received mercy and lived though he committed adultery and had the husband killed.  David trusted God.  Abraham, Elijah and Daniel all trusted God and were blessed in the time of the Old Covenant.
They trusted God and received mercy and grace in the time of the law of sin and death.  How much more is mercy and grace available to us under grace, in the time after Jesus fulfilled the law for us?  Are we still under the law?  Or have we embraced the grace of God freely offered to us as we accept Christ as our Redeemer?  Today it is not about the law and the prophets.  It's about Jesus, the Captain of our Salvation.
Look at Matthew 22:34-40.
Matthew 22:34-40
34But when the Pharisees heard that He had silenced the Sadducees, they gathered together. 35Then one of them, a lawyer, asked Him a question, testing Him, and saying, 36"Teacher, which is the great commandment in the law?" 37Jesus said to him, " 'You shall love the Lord your God with all your heart, with all your soul, and with all your mind.' 38"This is the first and great commandment. 39"And the second is like it: 'You shall love your neighbor as yourself.' 40"On these two commandments hang all the Law and the Prophets."
 Please notice that Jesus is not teaching here.  He is answering a question put to Him by a lawyer.  The question was designed to tempt Jesus so they could ensnare Him.  Jesus answered with a summation of the Ten Commandments.  And He further concluded that every law out of the hundreds of laws and every prophetic utterance of the prophets all hung on these commandments He called the greatest.
He did not come to destroy.  He came to lift them up and declare in His sinless death, "These are now fulfilled for all mankind in My blood."  The blood of animals could never reconcile us to God.  It only covered our sin for one year at a time (Hebrews 10:4) until Christ would come and wash away the sin of every one who received Him as Savior, by faith alone (Hebrews 9:14).
Hebrews 10:4 For it is not possible that the blood of bulls and goats could take away sins.
 Hebrews 9:14 how much more shall the blood of Christ, who through the eternal Spirit offered Himself without spot to God, cleanse your conscience from dead works to serve the living God?
 Galatians 3:19-26
19What purpose then does the law serve? It was added because of transgressions, till the Seed should come to whom the promise was made; and it was appointed through angels by the hand of a mediator. 20Now a mediator does not mediate for one only, but God is one. 21Is the law then against the promises of God? Certainly not! For if there had been a law given which could have given life, truly righteousness would have been by the law. 22But the Scripture has confined all under sin, that the promise by faith in Jesus Christ might be given to those who believe. 23But before faith came, we were kept under guard by the law, kept for the faith which would afterward be revealed. 24Therefore the law was our tutor to bring us to Christ, that we might be justified by faith. 25But after faith has come, we are no longer under a tutor.
26For you are all sons of God through faith in Christ Jesus.
 We are never justified by obedience to the law.  Jesus fulfilled the law for us.  That being the case, what are the commandments of Jesus written on our hearts?  What is the focus?
 Faith and Love
1 John 3:23 And this is His commandment: that we should believe on the name of His Son Jesus Christ and love one another, as He gave us commandment.
 Faith and love are the two things Paul said would avail much (Galatians 5:6).  Jesus declared these two.  John recorded them both and here he refers to them.
John 6:29 Jesus answered and said to them, "This is the work of God, that you believe in Him whom He sent."
 Jesus had fed the 5,000 the day before and crossed the sea at night walking on the water.  Still some of those who ate the bread and fish followed Him to the other side in their boats.
Jesus instructed them to shift their efforts from seeking food that perishes to seeking food that gives eternal life.  So they asked Him what they should do to work the works of God.
Jesus answered them that the work of God they should do was to believe on Him who the Father sent.  Faith.  The very thing Adam and Eve failed to do which has cost the Son of God, our Redeemer.  That and that alone saves us.
And once we are saved and followers of Christ there is a new commandment written on our hearts; that we should love one another as He commanded us.  Is He referring back to the great commandment of Matthew 22:37?
Take a look at John 13:34.  After He sent Judas to do what he intended and before He told Peter he would deny Him that very night He gave a new commandment.  This commandment is higher, tougher than the Old Covenant required.  Again, Jesus raises the bar; "Love one another as I have loved you."
John 13:34 "A new commandment I give to you, that you love one another; as I have loved you, that you also love one another."
 It's hard enough to love others as I love myself.  And to be honest, I have seen the way some people love themselves.  I would not want anyone to love me like that.  But if you can love me with the same love Jesus loves you with, now, I will stand in line for that kind of love.
Where do we get the power to love like that?  We don't go anywhere to get it by work.  We simply believe on the One the Father has sent and the Holy Spirit joins Himself to our spirit (1 Corinthians 6:17) making us into new creations with a new spirit and a new heart.  At that same moment the Spirit of God pours the love of God into our hearts (Romans 5:5).  What love is that?  It's the love of Christ which gives His life for us.  It's the love of Christ which saves us, heals us, delivers us and makes us whole.
These are the two commandments of God.  The ability/power to perform them is freely given to us by God.  Faith comes by hearing and receiving the word of God.  And when we receive Christ, the love that lays its life down for a brother is poured into our new hearts.
This love is natural, if we will just not try to figure it out in our heads.
How does the enemy trip us up and make that which is easy and natural to us become so hard and complicated?  Satan gives us religious instruction.  He shows us the tree of knowledge of good and evil.
Instead of letting the love of God draw us deep into the word of God and deep in the heart-to-heart communication with the God who gave His life for us; we believe the lie.  We receive the Bible as a rule book and prayer as a duty to perform religiously every day.
Relationship is lost and we are dragged back to Old Covenant commandments which lead us to darkness, despair and depression in a fruitless effort to obtain what had been given to us without merit or work of any kind.
 Regaining What You Lose
So what do we do to regain the liberty in Christ which we lost?
Romans 5:2 through whom also we have access by faith into this grace in which we stand, and rejoice in hope of the glory of God.
 We turn back to the One whom the Father sent.  We step back into grace through the door of faith.  The grace we needed for salvation was given freely to us by faith (Ephesians 2:8).
Ephesians 2:8 For by grace you have been saved through faith, and that not of yourselves; it is the gift of God,
 By faith you just step in again.
 2 Corinthians 3:12-18
12Therefore, since we have such hope, we use great boldness of speech— 13unlike Moses, who put a veil over his face so that the children of Israel could not look steadily at the end of what was passing away. 14But their minds were blinded. For until this day the same veil remains unlifted in the reading of the Old Testament, because the veil is taken away in Christ. 15But even to this day, when Moses is read, a veil lies on their heart. 16Nevertheless when one turns to the Lord, the veil is taken away. 17Now the Lord is the Spirit; and where the Spirit of the Lord is, there is liberty. 18But we all, with unveiled face, beholding as in a mirror the glory of the Lord, are being transformed into the same image from glory to glory, just as by the Spirit of the Lord.
 Until our minds are renewed by the word of God to line up with what is in our new hearts, we are susceptible to the influence of old familiar tricks of the enemy.  We hear a teaching that we had been controlled by in years gone by.  Because it is presented in a new wrapping we don't recognize the deception.  It pulls on old emotional fears of rejection.  We get hooked and brought back into condemnation.  We find it hard to rest in God's presence.  We can't hear Him clearly anymore.
But if we will turn and steadfastly look to the Lord, the veil of deception and confusion is removed by the Holy Spirit and we enter back into the faith of Christ which again liberates us and sets our feet to dancing.
If we will continue to behold the Lord, even if His image seems a bit cloudy, it will clear up and we will be changed by the Spirit of God into who we really are on the inside where we and the Holy Spirit are one spirit together (1 Corinthians 6:17).
 Remember What This is About
Hebrews 8:11 "None of them shall teach his neighbor, and none his brother, saying, 'Know the Lord,' for all shall know Me, from the least of them to the greatest of them.
 Remember what this is all about.  What's really been on God's heart since He walked with Adam in the cool of the evening?  He wants us to know Him.  He desires to reveal Himself clearly to us.  If we know Him in spirit and truth, we will worship Him.  We will follow Him.
In Hebrews 8:11 He promises that knowing Him will be (is) part of the New Covenant.  We won't have to teach people how to know Him.  It will be natural to them.  It is built in knowledge.  We just need to guard our new hearts on the one hand.  And let the Holy Spirit teach us how to live in this new heart naturally, on the other hand.
When you learn how to ride a bicycle you discover that you had the ability all along.  You just needed a little help getting the hang of it.  Once you got it, you never lost it.
1 John 2:20 But you have an anointing from the Holy One, and you know all things.
 We have an anointing from the Lord and we know all things.  The Holy Spirit knows the mind of Christ and the will of God concerning every situation, every problem, every heart ache you experience.  And you have an anointing to tap into that reservoir of secret knowledge.
 1 John 2:27 But the anointing which you have received from Him abides in you, and you do not need that anyone teach you; but as the same anointing teaches you concerning all things, and is true, and is not a lie, and just as it has taught you, you will abide in Him.
 The Holy Spirit lives inside of you.  He is your teacher and your guide into all truth (John 16:13).  He will never lie to you.  And as He teaches you, you become so secure in Christ and with God as your Father that you become firmly established in Him.  He is your dwelling place, your home forever.
 Psalm 90:1 Lord, You have been our dwelling place in all generations.
 Psalm 91:1 He who dwells in the secret place of the Most High shall abide under the shadow of the Almighty.
 To really know Jesus is to be secure and at rest in Him.  His peace will rule your hearts no matter what's going on around you.  There is no one like Jesus!
 Let's Review
Jesus is the Good Shepherd.  He knows us and when we know Him as well, we will follow Him.
Many believers lack security in Christ because they don't really know Him in their hearts.
God has given us new hearts, with new spirits and the Holy Spirit living within us.  This is a New Covenant promise and now our living reality.
The Old Covenant is obsolete in relation to the New Covenant believer.
God writes the laws of the New Covenant on the new hearts of every born-again child of God.
What's in the heart comes out naturally.  You can't hide it.
Fear of rejection grips us and we are re-ensnared by the law of sin and death.  Unforgiveness is a chief weapon of the enemy.  Because he can easily use it to lead us to create new laws for others to live by.  Those laws we create for others bind us and we can no longer access liberty in Christ (grace).
As we create rules for others we are defeated by the laws of our own making.
In Christ there are only two commandments – 1 John 3:23.
Faith in Christ – John 6:29.
Love one another as Christ loves you – John 13:34.
These are written on our hearts and therefore natural to us.
Salvation is by faith alone in the completed work of Christ.
God's focus is on us knowing Him.
The law makes rules and performance the focus.
The law keeps us bound to performance and failure.
Grace empowers us to keep the commandments which He placed in our hearts.
Knowing Jesus is the focus.
The law written on our hearts is not Matthew 22:37.  It is John 6:29 and 13:34.  Jesus fulfilled all the law for us and gave us new hearts able to know Him and obey Him naturally.
When you read the Bible and pray, don't do it out of religious duty expecting negative consequences for failure.  Read God's word and communicate with Him for the purpose of knowing Him intimately.
If you get ensnared – turn back to the Lord in simple faith.  Wait before Him for the Spirit of God to remove the veil from your eyes and teach you how to walk in faith and continual peace.
God's ways are higher than our ways – but as we walk with Him, He reveals the secrets of the kingdom.  There is great blessing and reward to those who trust Him.  The best is the wonderful security and perpetual peace of His abiding presence and love.