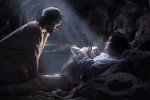 Celebrating the Birth of Christ
At this time of year we celebrate the birth of Christ as a babe in a manger as foretold by prophets, kings and psalmists centuries before the angels pronounced His birth in a choral surprise to shepherds on the hills of Bethlehem.  As the Spirit of God had placed the holy seed within the virgin womb of Mary, so He placed a seed of faith in each of our hearts to receive Christ as Savior.  Each of us who have received Jesus has a date each year on which God may celebrate our new birth in Christ.  Or, as I like to put it, the anniversary on which we may celebrate the birth of Christ into our hearts, where He lives forever.
Thank You, Jesus, for humbling Yourself into earthen flesh to humble our self-serving arrogance, so we can receive You in Spirit and Truth; exalted in Christ at the right hand of the Majesty on High. Your love, wisdom and grace are amazing.
We send each of you the teaching which is part 1 of "To Know Me is to Follow Me" – Jesus.  Look for it under the Teachings button.  Many of you may recognize this from some of our meetings this September or October.  Parts 2 and 3 will follow in January.  These are important teachings for clearing up double-minded mixtures of old and new covenants in which the Gospel ceases to be good news for the believer.  The believer can worship again in Spirit and Truth, set free of condemnation via rules and punishments, into the marvelous light of life in Christ by grace through faith in Christ alone.
Merry Christmas and a Blessed 2013,
Kevin & Debby Martin