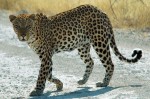 CAN A LEOPARD CHANGE HIS SPOTS?
 What happens when someone gets fed up with how she/he treats other people and makes a vow to change?  As admirable as that is, if the change is not natural to her/him, it will only last as long as her/his will power and favorable circumstances.  Can a leopard change his spots (Jeremiah 13:23)?
But imagine that the leopard lived during a time of transition of all leopards, as prophesied in Isaiah 11:6  Isaiah 11 contains a prophesy of the reign of Christ during the millennium.
Isaiah 11:6 "The wolf also shall dwell with the lamb,
The leopard shall lie down with the young goat,
The calf and the young lion and the fatling together;
And a little child shall lead them."
The leopard will never be any different than leopards are right now by trying.  But in that day the rule of Christ will naturally return all wild animals to their pre-flood, pre-sin state.
Jesus, by shedding His blood, has brought believers into a time of transition, if we will enter by faith.  Moses gave us the law, which condemns all men (John 1:17).  Even Christians who try to live by it get stuck in old realities.  Yet Jesus brought us into a time of grace and truth in which we are purged of an evil conscience (Hebrews 10:22) and from dead works.
Hebrews 9:14 how much more shall the blood of Christ, who through the eternal Spirit offered Himself without spot to God, cleanse your conscience from dead works to serve the living God?
 What does it mean to be purged from dead works?  It means I no longer strive to do things that are fruitless.  Trying to prove I'm a good Christian by what I do is a dead work.  Why?  Because Jesus has already paid the price of His blood to give us His righteousness (Romans 3:22) and make us holy (Hebrews 10:10).  Because Jesus accomplished this for us, it is a dead work to strive to be holy.  It's also a dead work to strive to be perfect, for He has already made us perfect and able right now, to appear before our Father in Heaven (Hebrews 10:14, 16, 17, 19, 22).
Hebrews 10:14-22
14For by one offering He has perfected forever those who are being sanctified. 15But the Holy Spirit also witnesses to us; for after He had said before, 16"This is the covenant that I will make with them after those days, says the Lord: I will put My laws into their hearts, and in their minds I will write them," 17then He adds, "Their sins and their lawless deeds I will remember no more." 18Now where there is remission of these, there is no longer an offering for sin.
19Therefore, brethren, having boldness to enter the Holiest by the blood of Jesus, 20by a new and living way which He consecrated for us, through the veil, that is, His flesh, 21and having a High Priest over the house of God, 22let us draw near with a true heart in full assurance of faith, having our hearts sprinkled from an evil conscience and our bodies washed with pure water.
 Think what that means.  To me it means, I no longer want to sin.  And if I do sin, I have His grace to make it right.
How does this work?  It works by His Spirit which comes into our spirits and literally changes our spots; giving us new hearts, new spirits (Ezekiel 36:25-27) and making all things new (2 Corinthians 5:17).  In other words, striving to be good is replaced with natural goodness as fruit of the Spirit (Galatians 5:22) Who has made Himself one with our spirits (1 Corinthians 6:17).
Talk about good news!
When we trust what Jesus did on the cross, we enter into this time of grace (Romans 5:2) wherein we are now able to stand in the liberty whereby Christ has made us free
Galatians 5:1 Stand fast therefore in the liberty by which Christ has made us free, and do not be entangled again with a yoke of bondage.
 Jeremiah 13:23 Can the Ethiopian change his skin or the leopard its spots?
Then may you also do good who are accustomed to do evil.
 That "Then", is now for the one who believes.