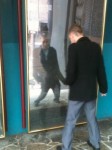 THE IMAGE YOU BEHOLD
 2 Corinthians 3:18 But we all, with unveiled face, beholding as in a mirror the glory of the Lord, are being transformed into the same image from glory to glory, just as by the Spirit of the Lord.
 When we look upon the glory of the Lord as in a mirror, we are changed into the image we see – from glory to glory.
Romans 5:8, 9
8But God demonstrates His own love toward us, in that while we were still sinners, Christ died for us. 9Much more then, having now been justified by His blood, we shall be saved from wrath through Him.
 The image that we see when we behold God's glory is the image we are changed into.  Some people believe that God is angry and ready to punish them.  That is the image they fear to see.  But, I don't believe that for two reasons.
1.  Jesus invited me to sit with Him and look at the Father.  When I finally trusted Jesus enough to do so, I discovered the Father's smiling sparkling eyes.  Now every time I look to the Father I see His smile.
2.  According to Romans 5:8 when I was still considered by Him to be just a sinner, He had His Son die for me.  God's anger was at sin, more than at me.  But it was not appeased until Jesus died to pay the price to reconcile us back to our Father in Heaven.  The wonderful point here is that, while He still had wrath in His heart toward me (us), He sent His Son to die for me.  That is incredible love.  That alone moves me to humble myself before Him.
Yet reading further to verse 9, we see that the marvelous result of being justified (made righteous before Him) is that I am (we are) saved from ever experiencing His wrath.  Jesus has so satisfied the wrath of God that I never need to fear God's wrath or punishment.  Jesus took it all on Himself for me and for you!
What image do you want to be transformed into?  An angry wrath filled God looking for the first excuse to throw you out?  Or a Father with smiling eyes, sparkling with joy because He has you?
Unfortunately, until Jesus introduced me to Father God and I saw that smile, what I believed to see (God's anger) influenced my thoughts, attitudes and behavior as I related to people.  Is it any wonder Christians are so unappealing to the world?
Now that I know the truth, every day I eagerly look again.  Guess what image I am being transformed into?  And Jesus?  Well, He's just like His Dad.