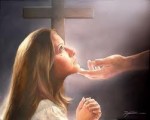 FACE-TO-FACE WITH GOD
Psalm 23   A Psalm of David.
1 The Lord is my shepherd; I shall not want.
2 He makes me to lie down in green pastures; He leads me beside the still waters.
3 He restores my soul; He leads me in the paths of righteousness for His name's sake.
4 Yea, though I walk through the valley of the shadow of death, I will fear no evil;
For You are with me; Your rod and Your staff, they comfort me.
5 You prepare a table before me in the presence of my enemies;
You anoint my head with oil; my cup runs over.
6 Surely goodness and mercy shall follow me All the days of my life;
And I will dwell in the house of the Lord Forever.
 David is known as the shepherd king.  He learned how to be a shepherd from God. Obviously, he learned as a young boy from his father and brothers.  Yet the shepherd we see in David is of a  higher degree than man can teach.  His family provided a good foundation so God did not need to  undo a lot of wrong thinking.  He learned how to protect and care for the sheep tenderly.  But God teaches us things based on what He knows we will face in our walk with Him.
I remember the months after I was born again. I read the Bible through twice.  I bought books  and commentaries I thought I needed so I could prepare myself to give an answer to any who would  question my faith in God.  God spoke to my heart one day. He said, "You don't need to know everything  there is to know.  I know what you will need to know.  I know where you will go and who you will  meet.  Just study the things I put on your heart to study." Peace came to my heart and I did what  God said. I have found that He knew what He was talking about.  God has even taught me how to do  some things the morning I needed to know them. He is true to his word.
God was the same with David.  He showed him how to kill the lion before the lion came. When the lion  came, David knew that God was right there with him and he just did what God had shown him.  The same thing happened before David met the bear (1 Samuel 17:32-37). David was the shepherd for other shepherds to learn from, because God was a shepherd to David.
 The sheep under David's care belonged to his father.  They were safe, secure and free with David as their shepherd.  All their fears were quieted when David was with them.  For David, it was the same when he saw Goliath. He had no need to fear.  God was his shepherd.
From this heart at rest with God, David became a shepherd king over the nation of Israel. He could kill tens of thousands while defending Israel because he knew God was with him. He led the nation through the time of war into a time of peace.  The marvelous thing is that David enjoyed this relationship with God though he was not perfect before God.
Psalm 32:5-8
5  I acknowledged my sin to You, and my iniquity I have not hidden. I said, "I will confess my transgressions to the Lord,"  And You forgave the iniquity of my sin. Selah
6  For this cause everyone who is godly shall pray to You In a time when You may be found; surely in a flood of great waters they shall not come near him.
7  You are my hiding place; You shall preserve me from trouble; You shall surround me with songs of deliverance. Selah
8  I will instruct you and teach you in the way you should go; I will guide you with My eye.
There were times when David sinned greatly against both man and God.  But he had such confidence in God's goodness and mercy that when it came to a choice of suffering at the hands of man or at the hands of God, David chose God.  He knew what it meant to be forgiven of not only his transgressions, which are the outward sins; but also the iniquities of his heart, from where the sin sprung.  He was restored to the relationship with God in which he knew what it meant to be guided by what he saw in God's eye.
This is what God wants with each of us, just as He walked with Adam in the cool of each evening.  Just as He walked with Enoch, with Abraham, Moses and David in close fellowship.  They could look Him in the eye and ask difficult questions and God would answer.
Psalm 31:19-24
19  Oh, how great is  Your goodness, Which You have laid up for those who fear You,
Which You have  prepared for those who trust in You In the presence of the sons of men!
20  You shall hide  them in the secret place of Your presence From the plots of man;
You shall keep them secretly in a pavilion from the  strife of tongues.
21  Blessed be  the Lord, For He has shown me His marvelous kindness in a strong  city!
22  For I said in my  haste, "I am cut off from before Your eyes";
Nevertheless You heard the voice of my supplications when I cried out to You.
23  Oh, love the Lord, all you His saints!
For the Lord preserves the faithful, and fully  repays the proud person.
24  Be of good  courage, and He shall strengthen your heart, All you who hope in the Lord.
 Jesus showed us this relationship in His own walk with the Father.  And demonstrated what it was to be like for us as He related to His close followers. Mary, the sister of Lazarus and Martha, sat at Jesus feet and heard Jesus tell Martha that she, Mary, had chosen well and He would not deny her that choice merely to have her serve tables (Luke 10:38-42).  She had been sitting at His feet looking into His eyes.  She knew this is where He wanted her to be.
John lay his head on Jesus' bosom after their last meal together (John 13:23).  This shows a special relationship between Jesus and John.  When all the others ran and hid while Jesus was being tried and crucified, John stayed close by.  He was standing with the mother of Jesus at the foot of the cross when Jesus released His Spirit and breathed His last breath.  And John outlived all the other disciples.  Even when they tried to boil him in oil, God protected him and he died years later of natural causes.  He was the one who wrote, "There is no fear in love" (1 John 4:18).  He knew because he experienced that kind of love from the One who is love.
God is inviting us into this kind of  relationship.
Revelation 3:20 "Behold, I stand at the door and knock. If anyone hears My voice and opens the door, I will come in to him and dine with him, and he with Me."
 Jesus is asking us to invite Him into our hearts. I see a picture here of sitting across the table and talking with Jesus as we dine.  When you sit across the table from Jesus you can look Him in the eye.   This is wonderful.  I have experiences in prayer in which Jesus appeared to me (John 14:21) so  close that He put his forehead against my forehead and looked me in the eye.   I was not afraid  of Him then, but neither was I afraid of anything else at that moment. I knew He loved me (1 John 4:18).
Yet Jesus did not pay the high price of His life's blood so we could look He alone in the eye.  He was sent by God the Father to eliminate every hindrance, to pay for all our sin and defeat all fear so the Father could have His desire.
John 14:23 Jesus answered and said to him, "If anyone loves Me, he will keep My word; and My Father will love him, and We will come to him and make Our home with him."
 Because Jesus has reconciled us back to the Father (2 Corinthians 5:19) now our Father in Heaven can make His home in us.  We can look across the table at Jesus and at God our Father as well.  This is His desire.  God wants us to have a face-to-face relationship with Him.
Psalm 27:8 When You  said, "Seek My face," my heart said to You, "Your face, Lord, I will seek."
Psalm 105:4 Seek the Lord  and His strength; seek His face evermore!
 One day Jesus told me to look toward the Father. It took me two weeks to get the courage.  But when I did I saw His wonderful smiling eyes.  No, I did not see the details of His face; His hair, His nose, His mouth or even the color of His eyes.  But I did see the smile of His eyes.  He wants us to see His smiling eyes.  There is a great treasure of peace and joy in His eyes for us.  But you will never know the joy of His smiling eyes until you see them smiling at you.
In His eyes there is no judgment, no anger, no punishment, no need to perform; just loving, smiling, fun-filled eyes; loving you and really, really glad you are there.  No rush for you to leave.  You can take as much time as you like.  He enjoys you!
The real you was created by God in His image to relate to Him face-to-face, eye-to-eye so that you really know God and thereby you really know yourself.  You were created by Him for Him.  He made you for Himself.  That is why all attempts to know who you are, are futile until you look into the eyes of your loving Creator, Father God.
You can see in the writings of Smith Wigglesworth that he had this kind of relationship with God.  He said in one message, "If you know that men have gone in and have seen the face of God, who have had the vision revealed, have had the whole of the Scriptures made life in their lives, never rest till you come to it.  You say, "Have you a Scripture to prove it?"  Yes, the Scripture says, "That ye may apprehend with all saints what is the depth, length, breadth and height of the love of God." (Ephesians 3:18, 19)."
Ephesians 3:18, 19
18 may be able to comprehend with all the saints what is  the width and length and depth and height— 19 to know the love of Christ which  passes knowledge; that you may be filled with all the fullness of God.
 Paul could write this to the Ephesians because he understood the truth he wrote to the Romans.
Romans 8:2 For the law of the Spirit of life in Christ Jesus has made me free from the law of sin and death.
 To understand this is to open the door into the liberty of the relationship God is inviting us to enter with Him.  A relationship that is open, with lots of smiling and talking heart-to-heart.  No fear.  No performance.  Free. The way two young children who like each other talk and play and have no fears.  Neither one controls the other.  Both are free to express their hearts to each other (Luke 18:16, 17). There is no fear of death to those who are in Christ, as He has fully paid all the consequences of all our failures under the law.  In Christ we are free to come to the Father and discover that His love has no strings attached.
Coming into this place, this relationship of love and security with the Father, prepares us to receive anointing, authority and responsibility to set the captive free.
Knowing how great God's love for you is will make you courageous like a lion in the face of fear.  Fear will become terrified of you as it sees Christ in you; the Lion of the Tribe of Judah!  He is a terror to all His enemies and the lover of your soul.
Sleep well, Child of God.
COMMENTS: Face-to-Face With God
Submitted on 2012/03/10 at 9:54 AM
You made some good points there. I looked on the net to learn
more about the issue and found most people will go along with your views on this
site.
mila