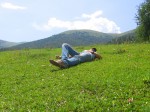 John 1:17 (NKJV) For the law was given through Moses, but grace and truth came through Jesus Christ.
Under the law of Moses we learn to perform or be punished.  There is no life in the law (Galatians 3:21).  Grace, in contrast, is the ability of God given to us to fulfill the law (Romans 8:4) or perform as required.  Truth reveals that Christ has taken our punishment.  We are now free from the fear of punishment even when we do fail.  Free from fear; we can come to rest in Christ.
I am moving fast, but follow me.  Under grace we learn to rest to receive.  Faith receives because faith knows it will receive (Mark 11:23-24).  So, faith does not work to receive.  It rests and in rest it receives.  Faith results in work, but not to earn anything.  Faith knows that God is faithful.
At the center of such faith is the knowledge that we are free from fear of punishment because Christ has redeemed us from sin.  Grace and truth came by Jesus Christ.  By His grace we find our Way (Jesus) to the Truth (Jesus) and through that Truth we are set free from the law of sin and death.  We then can rejoice in the liberty we find in the law of the Spirit of Life – in Christ Jesus (Romans 8:2).  Under the authority of this higher law we are free from performance for acceptance.  We can rest in Christ.  What does this mean in practical terms?
Consider several occasions in which Jesus was resting but His disciples could not.
Mark 4:35-41 (NKJV)
35On the same day, when evening had come, He said to them, "Let us cross over to the other side." 36Now when they had left the multitude, they took Him along in the boat as He was. And other little boats were also with Him. 37And a great windstorm arose, and the waves beat into the boat, so that it was already filling. 38But He was in the stern, asleep on a pillow. And they awoke Him and said to Him, "Teacher, do You not care that we are perishing?" 39Then He arose and rebuked the wind, and said to the sea, "Peace, be still!" And the wind ceased and there was a great calm. 40But He said to them, "Why are you so fearful? How is it that you have no faith?" 41And they feared exceedingly, and said to one another, "Who can this be, that even the wind and the sea obey Him!"
The lesson in this story is that fear and the labor to come to the shore were not producing good results.  The disciples were not getting to the destination where they could rest from this ordeal.  Jesus showed them two options: either rebuke the wind and the waves or sleep in the midst of the storm.  Both were much more effective than what the disciples were doing.  But I believe the option Jesus preferred for them was the one He chose for Himself.  Ignore what the devil is doing and sleep.  If the disciples had taken their cue from Jesus and lain down to rest, the storm would have lost its power to steal their faith.  The wind would have stopped and the waves would become calm.
Jesus demonstrated the principle of rest for us.  Sleep in the midst of the storms of life.  If Jesus is not bailing the boat, it is useless for us to.  If He is sleeping, that is obviously the best choice.
Jesus was not disturbed by the things which went on around Him.  He ministered to the people and taught them kingdom principles.  Yet He was not caught up in the politics of the day or the dramas of the lives around Him.  He stayed focused on the will of His Father and did those things which the Father showed Him.
Luke 4:18 (NKJV) "The Spirit of the Lord is upon Me,
Because He has anointed Me
To preach the gospel to the poor;
He has sent Me to heal the brokenhearted,
To proclaim liberty to the captives
And recovery of sight to the blind,
To set at liberty those who are oppressed;"
In Luke 4:18 Jesus declares who He is and what He has come to do.  Those in His home town who heard this became infuriated.  They thought they knew who He was and to them these words He spoke of Himself were blasphemy.  So they took hold of Him and dragged Him up to a high cliff to cast Him down to His death.
What did Jesus do?  Did He argue with them or explain Himself?  Did He fight to free Himself?  He simply turned and went through the crowd on His way to the next place His Father wanted Him to go (Luke 4:30) and taught openly there on the Sabbath (verse 31).
Luke 9:60 (NKJV) Jesus said to him, "Let the dead bury their own dead, but you go and preach the kingdom of God."
The world is focused on all their problems and does not recognize when someone is among them to save the whole world.
Mark 8:14-21 (NKJV)
14Now the disciples had forgotten to take bread, and they did not have more than one loaf with them in the boat. 15Then He charged them, saying, "Take heed, beware of the leaven of the Pharisees and the leaven of Herod." 16And they reasoned among themselves, saying, "It is because we have no bread." 17But Jesus, being aware of it, said to them, "Why do you reason because you have no bread? Do you not yet perceive nor understand? Is your heart still hardened? 18"Having eyes, do you not see? And having ears, do you not hear? And do you not remember? 19"When I broke the five loaves for the five thousand, how many baskets full of fragments did you take up?" They said to Him, "Twelve." 20"Also, when I broke the seven for the four thousand, how many large baskets full of fragments did you take up?" And they said, "Seven." 21So He said to them, "How is it you do not understand?"
Jesus was teaching His disciples to beware of the leaven of the Pharisees and of Herod.  He was talking about the religious focus that could not recognize Him and the political focus which would ignore Him.  They thought He was talking about the bread they had forgotten to bring.
We are so focused on our performance and possible failures that we miss the truth that what we lack and what we have failed to do are never problems for Jesus.  He feeds 5,000 with a child's lunch.  He heals a boy from epilepsy when His disciples cannot.  He rebukes the storm when they lack faith to lie down beside Him or rebuke it themselves.  He does all this from a heart at rest as the Son of Man; not as God.  He was not controlled by fear of man or by tragedy or by pressure to perform.  He was at peace with who He was and His mission to save man from sin.  However, His focus was on His Father.
Do you know your mission?  Let that be your purpose.  But do not let it be your focus.  When He leads you to work: then work.  When He is relaxing, just be content in His presence.
Consider Martha and Mary.  To learn your mission, do not be like Martha.
Luke 10:38-42 (NKJV)
38Now it happened as they went that He entered a certain village; and a certain woman named Martha welcomed Him into her house. 39And she had a sister called Mary, who also sat at Jesus' feet and heard His word. 40But Martha was distracted with much serving, and she approached Him and said, "Lord, do You not care that my sister has left me to serve alone? Therefore tell her to help me." 41And Jesus answered and said to her, "Martha, Martha, you are worried and troubled about many things. 42"But one thing is needed, and Mary has chosen that good part, which will not be taken away from her."
Martha was worried about many things and performing to please.  Remember the law creates a fear of punishment, unless you perform.
Be like Mary, at rest at the feet of Jesus while He is teaching.  She was where she needed to be to find out her purpose.  Her focus was on Him.  She was listening to the One who could teach her how to accomplish her purpose from a heart secure and at rest in Him.  She was at rest and she was receiving.
Led By the Spirit
Romans 8:14 (NKJV) For as many as are led by the Spirit of God, these are sons of God.
The key for us today is the same as it was for the disciples after Jesus ascended to the Father's right hand.  To be led by the Spirit of God means you do not move until He moves you.  You do not speak until He gives you the words.
Christ has saved us; therefore, we are God's children.  Yet we are identified as sons of God when we are led by the Spirit of God.  Heaven may be our home, but our mission is to bring Heaven to earth.  We accomplish that by doing the will of God by the Spirit of God.  Jesus gave us grace and truth, first, to come to rest in Him.  Second: to accomplish our mission.  We step into grace by faith (Romans 5:2).  And the grace of God is released to us as we walk in the Spirit of Truth.
This does not happen by striving to make things happen.  The grace of God flows through us like a river as we rest in Christ.  This is the grace (power) of God.  When we rest, we receive!  And when we rest, grace and truth is given to others.  Freely (easily) you receive.  Freely (easily) give.
At rest you receive – easily.
At rest you give – easily.
The Right Focus
Consider three episodes in the life of Mary the sister of Martha and Lazarus.
In Luke 10:38-42 Jesus said "Mary has chosen that good part."
In John 11:20-33 Lazarus had died.  When Jesus arrived Mary waited for Him to call her before she moved.
In John 12:1-9 Mary anointed Jesus' feet while one complained about the waste of the costly perfume.
In Luke 10 Jesus was not moved by Martha's need for help or by pressure to comply with her demand.  In John 11 Jesus was not moved by the need to save Lazarus or to preserve His own reputation.  In John 12 Jesus was not moved by the needs of the poor or to save resources.  He cared about all these things.  But He was not moved by them.
What was His focus?  His focus was, as always, the will of His Father.  God's will is always good, pleasing and perfect.
In Luke 10 He was feeding an open heart and demonstrating a higher value for women than kitchen work.
In John 11 He was demonstrating without question that He was the Messiah and provoking the religious spirits to seek His death!
In John 12 He was acknowledging the highest form of worship is to love God and obey the leading of the Spirit no matter what the cost.
1 Corinthians 13:3 (NKJV) And though I bestow all my goods to feed the poor, and though I give my body to be burned, but have not love, it profits me nothing.  
What is your focus?
Before you serve man, love God!