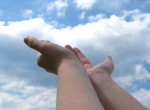 John 15:7 (NKJV) "If you abide in Me, and My words abide in you, you will ask what you desire, and it shall be done for you."
In 2011 we will increasingly learn by the Spirit of God what it is to live in Christ and have His words live in us.  The result will be that whatever we ask shall be done for us.  This will be a year of the joy of the Lord.  His desire that our joy be full will be realized.
New Years morning I saw the Lord smiling as He would teach Debby and me the ease of healing in His name.  Praying the simplest and silliest of prayers and seeing people amazed at the goodness of God to completely heal and restore them.  And then I sensed myself full of joy as we would witness others become amazed as they will come and report how easy it is to lives as witnesses of the Lord Jesus; preaching the kingdom, healing the sick, casting out devils, cleansing the unclean and even raising the dead.
I believe Jesus rejoiced to watch peoples' faces as they discovered they were free of demons, healed and able to see or hear or get up and walk.  He loved it when a parent went from grief to joy as He brought a child back to life.  I believe Jesus was overjoyed with amazement when He learned that a woman had enough faith that she was healed by simply touching the hem of His garment.  Or a servant was healed because his centurion understood that Jesus only had to speak a word and it was done.
I believe that Jesus was full of joy and maybe even laughing when His disciples returned to say, "Even the demons are subject to us."  Luke 10:21 reads,"In that hour Jesus rejoiced in spirit."  The definition of the word "rejoiced" includes "to jump for joy."  It goes on: "be (exceeding) glad, with exceeding joy, rejoice (greatly)."
Jesus had great joy for the excitement He saw in His disciples for what they had learned and experienced in the anointing.  He knew they were getting it.
 2011 is to be a year like that for us and for you, if you will learn to abide in Jesus and let His words abide in you.
John 15:11 (NKJV) "These things I have spoken to you, that My joy may remain in you, and that your joy may be full."
God has only good plans for you in 2011.
I wrote to one spiritual daughter recently that my prayer for her for the coming year was, "More of Heaven in 2011."
 What this means for each of you is this.  More of what God in Heaven wills to release into the earth will actually be received by people on the earth in this year.  So to you, as to all our family, friends and spiritual relations our prayer is, "More of Heaven in 2011."
God bless you abundantly,
Kevin & Deborah Martin